Acorns Money Pie Live comes to Chicago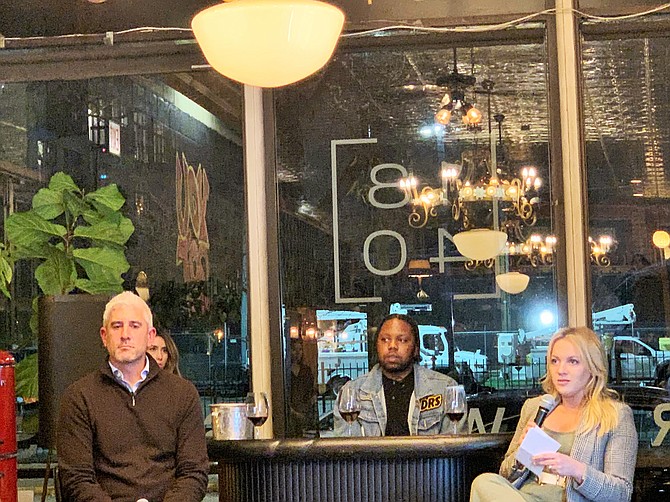 ---
Acorns Money Pie Live comes to Chicago
By Tia Carol Jones
Money and finance talk is never easy. But talking about money and finance with wine and pizza, makes it a little more palatable. That was the concept behind Acorns Money Pie Live at Juice @ 1340 recently.

Acorns is a savings and investment app that allows its users to start with as little as $5. It has more than 4 million subscribers. Money Pie Live is Acorns live event series that aims to start conversations about money and bring financial literacy tools to communities across the country. Chicago was the first of 14 cities where the event will take place.

Juice @ 1340, located at 1340 W. Madison, opened on Juneteenth 2021. Derrick Westbrook, a sommelier who has worked in some very prestigious restaurants, is one of the co-owners of the wine shop.

Westbrook was joined by Seth Wunder, the chief investment officer at Acorns, and Jessica Schaefer, the chief communications officer at Acorns, to have the conversation which ranged in topics of generational wealth, investing and retirement.

Wunder said the purpose of the event was to give people an educated view of their money. They want to show people how to think about saving and long-term investing, how to be comfortable talking about complicated topics, in a digestible, sensible way. Acorns hopes to give people confidence that they can come up with an action plan on how to handle their money.

The goal was also to benefit small business owners in cities where there are Acorns customers and to build community around financial literacy. The next events will take place in Bronx, Brooklyn and Houston.

Westbrook was chosen because of his passion about money and investing.  He was also choosing because he is an entrepreneur and knows how difficult it is to manage finances through the highs and lows.
Westbrook wanted to host the event because he had questions that he wanted to have answered and he imagined if he had questions others might have the same questions.

"Being an entrepreneur and thinking about building generational wealth, thinking about investing, and thinking how you do that; there's a wealth of knowledge out there I don't have and being able to tap into that in way, and using wine as a hook to do something that's really community oriented," was great he said. Westbrook believes that hosting the event was a safe entry point for people to come and engage in a conversation about finances.

"I want people to hear something they've never heard, think about money in a different way, I want to learn some things and start to actively using it in my daily life or long-term goals. Then ostensibly, grow the footprint of the wine shop and make generational wealth that is much more attainable for people who thought it wasn't," he said.

Angie Toussaint has dabbled in investing and has an Acorns account, as well as other investment accounts. She wanted to learn more and become more financially aware. She wanted to hear about what's out there and what's in the market.

"I don't have time in the morning to sit there and stare at a Bloomberg terminal or any one of the financially heavy new programs. Just being here and getting some answers on the best way to invest is why I'm here. I don't have all that much faith in the 401ks.  I am looking at other avenues and other ways to get that extra income on the side, having your money work for you while you sleep is a great way to invest in yourself and invest in the future," she said.

For more information about Acorns, visit www.acorns.com. For more information about Juice @ 1340, visit www.1340bws.com.
---