CHATHAM DISCOVER CUSTOMER CARE CENTER HELPS WITH BACK TO SCHOOL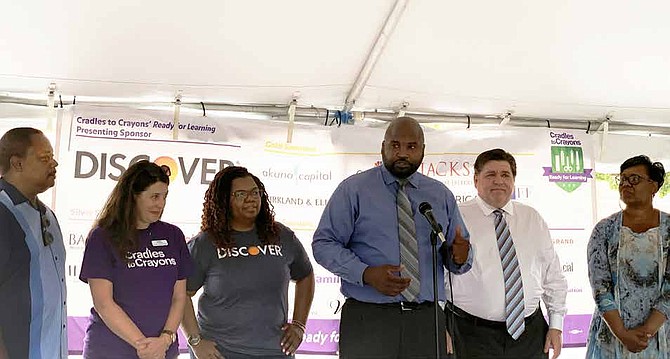 ---
 Chatham Discover Customer Care Center helps with Back to School

BY TIA CAROL JONES
 Employees at the Discover Customer Care Center, located
in Chatham at 8560 S. Cottage Grove, packed backpacks with
school supplies for Cradles to Crayons' Ready for Learning. The goal was to pack and distribute 60,000 backpacks to children throughout Chicago.

Cradles to Crayons prepares students for school by supplying them with what they need for school. The organization has locations in Chicago, Boston and Philadelphia, and has served 1.7 million children since it was founded in 2002. The initiative will serve 20% more students this year than prior years.

The goal of the initiative is to ease the financial burden on
families and remove barriers for a quality education for children living in low-income or homeless situations.

For Juatise Gathings, manager of the Chatham Discover
Customer Care Center, the partnership was a no-brainer
because it was a chance to do something significant through
Cradles to Crayons, as well as support families who have some challenges in getting back to school and the implications of COVID-19.

At the Chatham Discover Customer Care Center, there
were more than 12,000 backpacks that were packed and distributed. Some local schools, Dixon Elementary and Avalon Park Fine and Performing Arts, were the recipients of some of those backpacks. "There are 52 organizations that Cradles to Crayons distributed the backpacks to, from both Discover Customer Care Centers in Chicago, said Gathings.

Also in attendance at the event were Governor J.B. Pritzker, State Senator Elgie Sims, (D. Dist. 17), 8th Ward Alderman Michelle Harris and 6th Ward Alderman Roderick Sawyer.
State Senator Elgie Sims acknowledged that Discover employees are partners with the community through their volunteer efforts with Cradles to Crayons and the impacts it makes on the community. "We are moving forward day by day and we are making a difference day by day," he said. Discover has hired 75 employees so far, 70 % of them live within a five-mile radius of the location.

"Having them pack backpacks in their communities, where
oftentimes, a lot of their families and friends could be impacted by the work they are doing, it made them feel really good and it made them feel grateful and really excited to have the opportunity to serve in that capacity," Gathings said.

Phase 1 of the Chatham Customer Care Center opened
on June 7. Phase 2 is set to open closer to the end of the year.
Discover has ramped up its hiring to ensure it meets its goal
of 2,000 employees in Chatham by 2024.

"So far, we've hired a capable group of leaders, who are not
just passionate about their work and their jobs at Discover but
also are passionate about being a good neighbor and making sure they do all they can to support Chatham and other South Side communities," Gathings said.
---