EXELON PARTNERS WITH DIVERSE BUSINESSES
4/28/2021, noon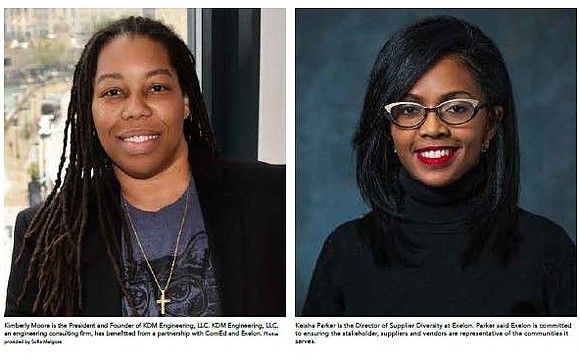 Exelon partners with diverse businesses

BY TIA CAROL JONES
      Kimberly Moore is the founder of KDM, an engineering and telecommunications firm in Streeterville. Moore has an electrical engineering degree and was employed with Exelon. The first thing
KDM took on was Exelon work. Moore started off with Crown Castle supplying telecom work, and said it led to other telecom companies looking to do additional things.
    "We were really fortunate that we were able to establish a relationship with Crown Castle to start and that experience on our resume let other telecom companies know that, just like with Exelon, if you have Exelon on your resume, as being a prime, then other utilities and other companies are more apt to work with you, because they see you can handle that level o work," Moore said.
      Moore, who is one example of how Exelon uses partnerships with local and diverse talent to help small businesses, credits the success of KDM to the mentorship and opportunities she received from Exelon. At the head of this work is Keisha Parker, director of supplier diversity at Exelon.
     Parker said while Exelon is an energy provider in the nation, the company is also honored to be part of culturally rich communities in Philadelphia, Chicago, Baltimore and Washington, D.C. She added that year after year, Exelon has increased the percentage of products and services they receive from suppliers representing diverse businesses.
     "The reason we've seen that increase is because we've been consistently inclusive in how we are ensuring that when we have opportunities for contracting and bidding processes, that we're really thoughtful on how we are bidding those and partnering with diverse businesses. And, not just diverse, but diverse businesses that are locally-based to the communities we serve is also a really important part of what we do," she said.
     Parker said KDM, under Moore's leadership, is an amazing partner for Exelon and ComEd. She said there's a symbiotic relationship between KDM and Exelon.  "For us, it's not just about finding a diverse partner, but we still want to make sure we're maintaining the quality and safety we need for our customers. So, when you look at how KDM, fast forwarding to 2021, is still such a valuable partner for us, as an engineering firm that's Chicago- based and diverse owned, it is really a testament to how not just ComEd and Exelon have grown over the years. We've grown as a company, KDM has grown as a company, we're really viewed as a partnership because you have two companies who have grown together," she said.
     Moore echoed Parker's sentiments, adding that Exelon and ComEd have been a great partner for KDM. "They have definitely allowed us the room to grow and its very helpful because a lot of businesses don't want to be your first client or your biggest client, but they looked a little bit beyond that and allowed us to continue working on their system and growing us, so that they weren't our only big client and they weren't [the] majority of our revenue," she said.