Businesses receive money to rebuild after unrest
4/7/2021, noon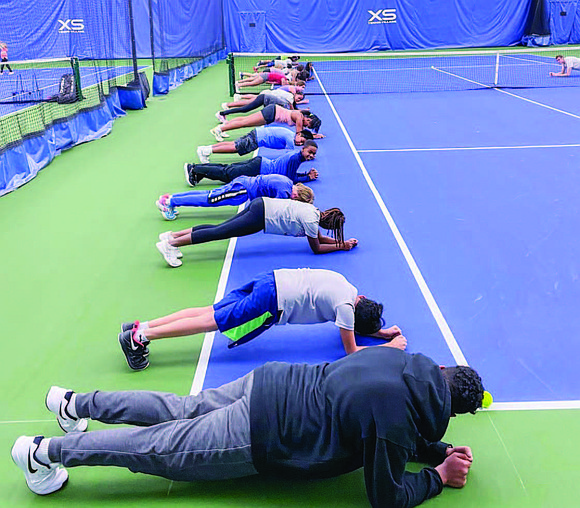 Businesses receive money to rebuild after unrest

BY TIA CAROL JONES
     Kamau Murray opened the new XS Tennis and Education Foundation facility, located at 53rd and State Street in 2018. Murray needed a facility where he could teach tennis all year round. The facility has 27 tennis courts and classrooms.
     Marcia Lee opened Marimarshe Salon, located at 52nd and Woodlawn, in 2018. She has been a salon owner for more than 20 years and had to close her first location at 22nd and South Michigan Avenue due to the pandemic.
     During the civil unrest of summer 2020, both Murray and Lee had their businesses damaged. They are two of 58 small business owners who have been awarded part of a $ 1.7 million grant through the Rebuild Distressed Communities program and which can be used to repair damage done to their businesses.
     The program is being administered by Local Initiatives Support Corporation (LISC) and Chicago Neighborhood Initiative (CNI) on behalf of the Illinois Department of Commerce & Economic Opportunity (DCEO). Award amounts averaged out at $29,000.          
     Businesses can use the funds on costs that were the result of the civil unrest including reimbursement on the cost of damage, insurance deductibles and construction work on repairs.
     "The civil unrest of 2020, in conjunction with the pandemic, have created havoc for many businesses especially for small businesses in communities of color," Meghan Harte, executive director of LISC Chicago, said in a release. "In many cases, these businesses had already been financially stressed by systemic issues affecting access to capital for startup and reinvestment. The success of these small businesses is critical to sustaining and building thriving communities. The resources from DCEO are critical for small business owners to keep their doors open and serve their communities."
     Murray's XS Tennis began in 2005 as a program in the public parks on Chicago's South Side during the summer. And, in 2008, XS Tennis moved to 47th Street, which allowed the program to service youth all year round. It grew from five children to 5,000 children annually.      
     Working with Alderman Pat Dowell, Murray was able to find land on State Street, to be on the center point of the city and have a greater impact.
     "It really puts us in a position where we can really touch the entire south side via public transportation," he said.
     Murray said because of the location of the facility, it was close to the Garfield Boulevard shopping center. He said people park in the XS parking lot and walked to the shopping center to loot. He said he doesn't think anyone intentionally targeted the facility. "We unfortunately were victims of proximity to stores that were probably more attractive from a looting standpoint," he said.
     Murray said the funds will go towards repairing the fencing, cover the cost of glass repair, install security shutters, install new security lighting and repair the electric and infrastructure that was damaged during the break-in.
     "Everybody's struggling at this time and private sector funds aren't always easy to tap into. The state did a good job this time of having a very open and transparent process that was well facilitated. And, we're very grateful so we can make some much needed repairs and install some preventive measures," he said.
     Lee's Marimarshe Salon was looted and the windows were damaged. The money will go towards new windows, doors, and bars on the windows. She acknowledges that bars on the window aren't the most appealing, but she has to protect her business.
     "We want to protect the business because we don't want this to happen again," she said, adding she thinks the program is a Godsend because it is hard for minority owned small businesses. "I think it is amazing that they are willing to help mom and pop businesses, these small businesses," she added.
     For more information on Rebuild Distressed Communities Program, visit https://tinyurl.com/7yb96bkw.