LAWN SIGNS BRIGHTEN PEOPLE'S LIVES
9/9/2020, noon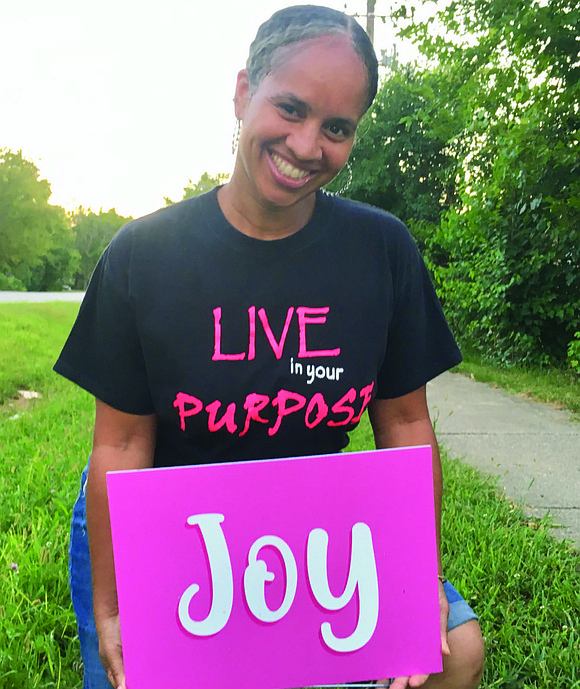 Lawn signs brighten people's lives
BY TIA CAROL JONES
Faith, hope, peace, love and joy are words that you can find on lawn signs across the South Suburbs as well as on the Southeast side of Chicago.
The signs are the brainchild of Kai Haynes, a resident of Flossmoor. During the first weeks of the shutdown due to COVID-19, Haynes was looking out her window and it was as she described it, "blah."
"I need to look out my window and be able to smile," she said. "I need to see some colors."
Haynes said God gave her a vision in her dreams to decorate the trees outside her house and her neighbors' houses with ribbons. So, Haynes and her husband bought different color ribbons and walked around and decorated the trees on the block with ribbons.
They also put a note in each neighbors' mailbox with a description of what each color ribbon meant and let them know that they could get through these uncertain times.
A week later, Haynes said God gave her another vision, this time, of the words hope, peace, love, joy and faith. The purpose of the signs she said, was to, "put them everywhere so that people could see them." And this included people beyond her block. She said the signs served as a way to give people "some hope" and to "make them lift their head up and give them some faith."
Haynes designed the signs and came up with the colors that aligned with the words. Originally, there were 24 signs, just for Haynes' block. Then, people started asking about the signs and the popularity of the signs grew. As of September 1, Haynes had distributed 800 signs.
"People would send me their address and I would go and put them in their yard. People started asking for sets of signs," she said.
Haynes said the colors for the signs come from the bible. Hope aligns with the color yellow; faith with blue; joy with pink; love with red and peace aligns with the color green.
Haynes said she thinks it is awesome about how the concept has grown. People's neighbors are getting to know each other and are striking up conversations because of the signs, she said. Moreover, people are getting cards from their neighbors thanking them for putting the signs out and for spreading positivity in the midst of the chaos.
"I think it's a great thing. It's filled its purpose. I always say, 'live in your purpose.' These signs are definitely doing what the purpose was. [And that is] to bring what each word means, to bring hope to people, [to] bring faith [and to] bring joy to people," she said.
Haynes said one man told her that he drives past a row of the signs on a busy street every morning and he looks forward to seeing the signs each day and they make him smile. She said it is confirmation that God gives her visions for a reason.
"I just felt like people ride their bikes, walking or driving past, if you can just give them one little glimmer of hope, I think that's what it's supposed to do. I think it's crucial that we give love to people, now more than ever. People are losing people, they can't really celebrate their life," she said. She said she's just "glad everybody has embraced it.
"God gave me the vision," she added. "I just thank you for sharing in the vision."