FATHER OF FIVE MAKES A DIFFERENCE IN COMMUNITY
10/14/2020, noon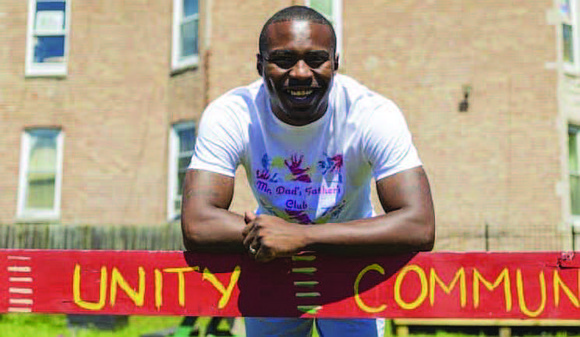 Father of Five makes a difference in community

BY TIA CAROL JONES
     Joseph Williams, husband and father of five, wanted to be a more involved father, so he started to become active at his children's school.
Williams began doing lunchroom duty and moved into reading books in the classroom. In 2017, he got the idea to start Mr. Dad's Father's Club, a non-profit organization which promotes literacy among children and which provides a male role model in the lives of children.
     Williams, who grew up in Bronzeville, now lives in Englewood. He said he loves being engaged and helping out in the community. "I love helping others, and I love helping our children, trying to help them grow because I know that's the future," he said.
     Williams said his mission for starting Mr. Dad's Father's Club was to be involved in his children's lives and wanting to help other children. He said lunchroom duty and reading to one classroom evolved into 20 fathers reading to classrooms on a weekly basis.
     Describing the experience as "phenomenal," Williams said, "It was random. I was just in the school doing lunchroom duty and volunteering because I know some schools lack resources and they don't always have the support they need. I wanted to go in and help out and I told the principal, put me where you want to put me," he said. "I read to the class and the class tuned in so well."
     Williams said education, especially early childhood education, is key. He said reading to children at an early age helps them to build their imaginations and it helps them to envision a better future for themselves.
     "That's the ultimate goal - is to really change the way our children are thinking so as they grow, they have some type of hope, but they also think different[ly] toward[s] life where they're more encouraged and more motivated to want to be better," he said.
     Williams added his top three goals include having the Mr. Dad's Father's Club literacy program in all Chicago Public Schools, expanding the program to other cities and states, and having a community center.
     He envisions the community center having a library and a theater. It would offer resources to both fathers and children. Describing it as a "safe place" designed to help families "grow" Williams added, the goal would be "to bring families back together."
     He went on to describe how the center would help individuals to use their imaginations, offer an opportunity for a "hopeful future" and help individuals to "expand their horizons."
     Williams said it's important to have fathers in children's lives because having a male role model is so important to a child's development. It makes a huge difference, he said, and plays a major role in the child's life.
     "Even when you look at the numbers, they talk about how when you have an involved father, your children are more likely to succeed in school and graduate," adding "they're [also] less likely to do drugs and alcohol." Williams continued: "When you have a positive male role model in a child's life, you give that child an extra piece they need to grow."
     According to Williams, the organization reads to students from kindergarten to third grade and mentors students from fourth to eighth grade. He said it took a lot of boots on the ground to grow the program. Williams used his experience as a community organizer to expand, grow and to reach the fathers.
     "Fathers want to be engaged. It's just how do we get them engaged and how do we do the outreach to pull them in. You've got guys like myself, who want to read books to children, who want to mentor children. So, how do we do that outreach and get them engaged," he said. "It's about our babies and really trying to help them have a good future."
     For more information on Mr. Dad's Father's Club, visit mrdadsfathersclub.com.