VIRTUAL AWARDS CEREMONY CELEBRATES COMMUNITY DEVELOPMENT
5/20/2020, noon | Updated on 5/20/2020, noon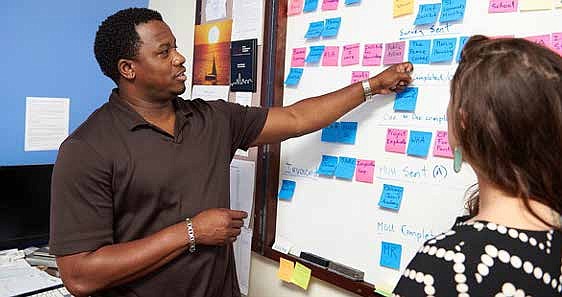 Virtual awards ceremony celebrates community development
BY TIA CAROL JONES
LISC Chicago has celebrated community development projects and architectural achievements across the city for 26 years.
This year, the organization wasn't able to have its regular awards event at McCormick Place due to COVID-19. Instead, LISC Chicago hosted its Chicago Neighborhood Development Awards (CNDA) online.
The livestream, which took place on May 6-7, featured Mayor Lori Lightfoot, "Chicago PD" actor LaRoyce Hawkins and included performances by Reginald Robinson, Open the Circle and Young Chicago Authors.
The Chicago Neighborhood Development Awards were created in 1995 as a way to honor architectural design and community building, as well as to celebrate the essential role that non-profit and for-profit developers play in building healthy neighborhoods throughout the city.
Meghan Harte, executive director of LISC Chicago, said everyone was gearing up for the awards ceremony when the stay-at-home order was put into place. But the organization was able to quickly pivot by transforming the ceremony into a virtual livestream event.
Harte said that CNDA is an expensive production and holding the event in a virtual environment actually saved the organization money.
LISC Chicago decided to take the savings of $75,000 and award additional grant money to community projects in the city.
For every winner of a CNDA award, Harte said, there's 10 other applicants and probably 30 other projects that are all great and innovative. "And, if we could lift some of those up too," that's what the organization wanted to do.
Determining which applicants will receive the additional grant money is still up for discussion, said Harte. Some ideas include convening the jury to make the final decisions.
Austin Coming Together received the Chicago Community Trust Outstanding Community Plan Award for its Austin Quality of Life Plan.
Harte said they were chosen because of the effectiveness and energy of their leadership and the comprehensiveness of the plan.
Darnell Shields is the executive director of Austin Coming Together.
Shields said in creating the Quality of Life Plan, the organization was really thoughtful about community engagement and made sure they had a large representation of residents from the community. Austin Coming Together ended up having more than 500 individuals who "seeded" their voices into the plan and Shields said that made it a very "arduous task," but added in the end, the outcome was well-with it.
Shields said Austin Coming Together is turning 10 years old this year and he's been a fan of the CNDA for about seven years. Being a recipient of the award, was a "huge milestone" for Austin Coming Together, he said.
In speaking about the award, Shields said it's "awesome" to be celebrated. Just really speaking about hope and "showcasing the love and unity we have for each other in our community, and having that now being the narrative, it's very refreshing," he said.