Clothing line looks to create movement
3/25/2020, noon | Updated on 3/25/2020, noon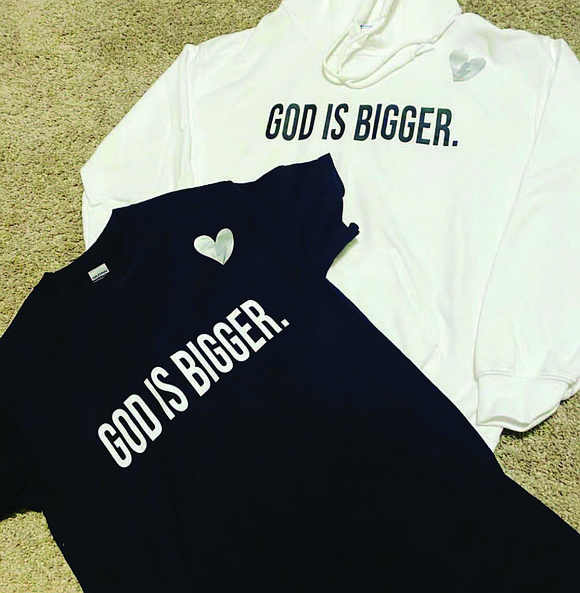 Clothing line looks to create movement
BY TIA CAROL JONES
In 2019, Kiara N. Jones created the God Is Bigger clothing line. She said it was an idea God gave her randomly while she was sitting in her new members class at her church. The goal was to show her faith through fashion. But now, with the coronavirus, COVID-19, and the uncertainty, it has become a message for people to lean on.
The tagline of the clothing company is "more than a brand, a movement." It includes t-shirts, sweatshirts and hoodies, with the words "God is Bigger" emblazoned on the front and a logo of a heart with a lightning bolt in it. There are also bracelets with the heart and lightning bolt on it. Prices range from $25 to $40.
"As an educator, I never thought I'd be doing anything in fashion," Jones said.
Last year, Jones recommitted her life to God. She said she spent the last 10 years doing her own thing, but in January 2019, she made the decision to recommit her life.
"I said, 'Lord, if we can make it through this year, we could make it through
anything,' " Jones said.
It was during that time, Jones realized that "no matter what I did, God would love me regardless." She said in going back to her notes from that time, she wrote down "God Is Bigger."
"The heart and soul of God Is Bigger came out of my personal journey," she said.
Jones said everything felt so big and that she couldn't do things on her own. Then, she heard God. " 'This might be bigger than you, but it's not bigger than me, so give it to me,' " she said.
Jones said the clothing is more than just t-shirts, sweatshirts, hoodies and bracelets.
"Beyond the material, I like to think we give people a little bit of hope," she said.
Jones is an educator who teaches 11th grade. Currently, Governor J.B. Pritzker has closed schools due to the coronavirus.
"As a teacher, I'm super concerned about my babies," she said. "My constant prayer has been, keep the children covered."
Jones said she is very clear how her clothing line fits into the faith and fashion genre.
"We're not a stuffy Christian brand, we're not a pimp Jesus brand, we're the 'where does it hurt brand,' " she said. "Wherever it hurts, that's where we put God."
Jones said one of the biggest things people grapple with is how can a good God allow bad things to happen. She said it was something she dealt with after she recommitted her life to God and had to experience the death of her cousin.
She doesn't sell people something she doesn't believe in, Jones added. Lately, she's been reminding herself that no matter what it looks like, no matter what it feels like "God is in control."
For more information about God Is Bigger, visit https://godisbiggerclothing.com.