UPS' 'Circle of Honor' Recognizes The Company's Safest Drivers
3/18/2020, noon | Updated on 3/18/2020, noon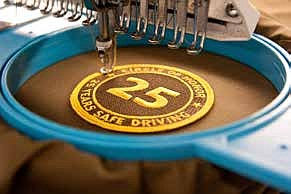 UPS' 'Circle of Honor' Recognizes The Company's Safest Drivers
UPS recently announced the induction of 1,316 men and women into an elite group of UPS drivers who have not had an avoidable accident for 25 years or more. With those new inductees, the Circle of Honor now includes 10,411 of UPS's active brown-clad drivers.
Collectively, these drivers have achieved more than 280,969 years of safe driving throughout their careers. That's enough time behind the wheel to drive non-stop from Miami to San Diego – over 65 million times. And they've done it while helping to deliver 3 percent of the world's GDP – 20 million packages a day.
"My congratulations go out to the thousands of hard working UPS drivers around the world, including those from my home state of Oregon, who not only keep our economy moving, but who are also part of an elite group with a remarkable record of decades of safe driving," said Congressman Peter DeFazio (D-OR), the Chairman of the U.S. House Committee on Transportation and Infrastructure. "I applaud the commitment to our communities and the safety of our neighbors."
Along with drivers in all 50 U.S. states, this year's Circle of Honor includes new members from Hong Kong, Singapore and Taiwan. In addition to those countries, the list of non-U.S. countries with active Circle of Honor drivers now includes: Canada, France, Germany, Mexico, Switzerland, the Netherlands and the United Kingdom.
UPS's longest-tenured safe driver remains Livonia, Mich., package car driver Tom Camp, who has now driven well over half a century – a remarkable 57 years – and delivered more than 5 million packages without an accident.
UPS began recognizing its safe drivers in 1923. Founder Jim Casey honored the company's first 5-year safe driver, Ray McCue, in 1928. UPS extends its safe driving expertise to the communities it serves through UPS Road Code® training, a teen safe driving program available in the United States and internationally. Taught by UPS volunteers, based on the company's safe-driving methods, the program is available to teens between the ages of 13 and 18 and other novice drivers. To date, more than 76,700 new drivers have participated. The program has been extended to Canada, China, Germany, Mexico, the United Kingdom and the United Arab Emirates.