MERIDIAN TEAMS WITH AUNT MARTHA'S TO OFFER FREE COVID-19 TESTS
6/24/2020, noon | Updated on 6/24/2020, noon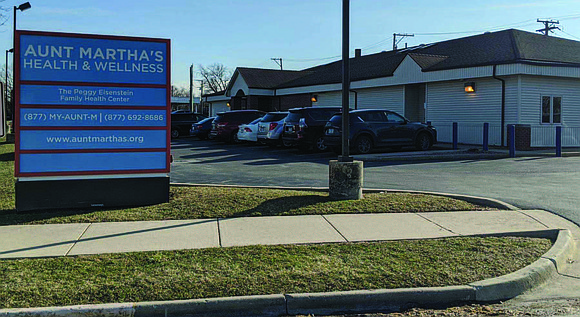 Meridian teams with Aunt Martha's to offer free COVID-19 Tests
BY TIA CAROL JONES
Meridian of Illinois and Aunt Martha's Health and Wellness are offering free COVID-19 PCR tests and antibody tests to residents in the South Suburbs at Aunt Martha's Pediatric Health & Wellness, located at 500 Dixie Highway, in Chicago Heights, and at the Kankakee (Illinois) Community Health Center, located at 1777 E. Court St.
Results of the tests will go toward a broader research study that will be conducted to provide evidence-based solutions to help reduce healthcare inequities for underserved communities.
Karen Brach, plan president and CEO of Meridian in Illinois, said since COVID-19 hit, the company has deployed a number of programs across the state. Meridian also has donated $80,000 to the Salvation Army, Northern Illinois Food Bank and Greater Chicago Food Depository to support food-funding in local communities.
Brach said Meridian decided to partner with Aunt Martha's because it had health centers in underserved areas with high proportions of COVID-19.
"A PCR test tells you whether you have coronavirus now," she said. "If you are PCR positive, you may or may not be showing symptoms of COVID-19, so you are asked to quarantine for 14 days."
Brach said the antibody test, also known as a serology test, is done after someone has fully recovered from COVID-19.
"If test results show that you have antibodies, it indicates that you were likely infected with COVID-19 at some [point] in the past," she said.
The antibody test is done by a healthcare professional taking a blood sample. The PCR test is done by a healthcare worker collecting fluid from a nasal or throat swab, or from saliva.
Brach said testing for this study will end once 1,000 eligible samples have been obtained.
"The hope for this study is to get a better understanding of the impact COVID-19 is having on racial minorities, rural and tribal communities, while informing the public health response to help address health disparities," she said. "This study can also lead to a larger study of the genomic implications of COVID-19 and whether there are distinguishing economic features that put individuals at greater risk of increased mortality and morbidity from COVID-19."
Raul Garza is the CEO of Aunt Martha's Health and Wellness. He said since the last week of March, the company has seen more than 16,400 patients in telehealth visits and overall, they are seeing about eight times more telehealth visits per week than they did prior to the pandemic.
Garza said Aunt Martha's partnered with Meridian of Illinois because as an organization dedicated to underserved communities, they felt that partnering with Meridian to offer free PCR and antibody tests would increase testing accessibility in the harder hit communities as well as further Aunt Martha's commitment to understanding and shining a light on health disparities.
"For Aunt Martha's Health and Wellness, the hope for the research study is to truly understand the acute and chronic impact of COVID-19 in communities of color, as well as to see what public health implications come out of the study, as well as interventions that result in influencing outcomes," Garza said.
Testing is done on a first come, first served basis. Hours are from 11 a.m. to 7 p.m. Tuesday-Friday; and 9 a.m.- 3 p.m. on Saturdays.
For more information, visit www.auntmarthas.org.