Entrepreneur creates COVID-19 Vending Machine
6/24/2020, noon | Updated on 6/24/2020, noon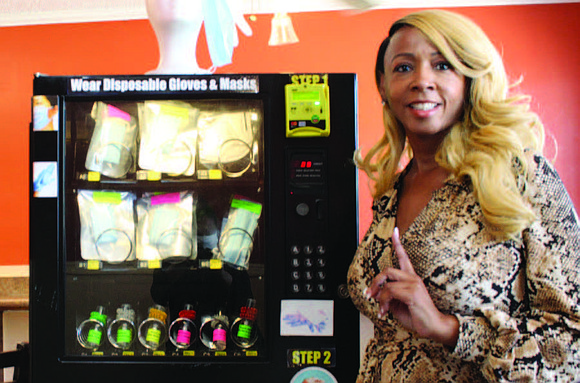 Entrepreneur creates COVID-19 Vending Machine
BY TIA CAROL JONES
Lolita Brown is an entrepreneur with a successful beauty business, Mental Beauty Supply. She is also an author and life coach. She found a way to offer products using a beauty supply vending machine that she repurposed.
When COVID-19 hit, she saw a need for people to get products, which includes masks, gloves and hand sanitizer. So, she created a COVID-19 Contactless Vending Machine.
"I saw a need. So, I actually put masks and gloves and hand sanitizer in the vending machines with a credit card processor on it," she said. "I have it over there on Madison at the Uncle Remus because it's very busy over there."
Brown said the vending machine is important because a lot of businesses require people to wear masks to come inside. She said the community is often forgotten about when it comes to resources like providing masks or educating people on how to reduce the spread of COVID-19.
"I was seeing people reusing masks, dirty masks," she said. "I took the machine and put it in the middle of them."
Brown said she made it contactless to reduce theft from the machine. And, to reduce the people's contact with touching money due to COVID-19.
"I just thought it was neat to have something where they could just take their credit card or their debit card, put it up there and purchase it that way," she said.
A pack, with a mask and gloves costs $3. The hand sanitizer, with a wristband, costs $4. The hand sanitizer was purchased from a Black-owned company.
Brown said she has five vending machines, which are available to purchase for $3,000. She said there is also an opportunity to franchise the vending machine or purchase a space in the machine with their products for the COVID vending machine or the beauty supply vending machine. She said there have been people who have inquired about purchasing a vending machine.
Brown said the response has been great.
"Whichever one it is for the beauty supply vending machine or the COVID vending machine, it's unbelievable. They can't believe it, they're just in awe," she said. "They see the products."
Brown said she has been passing out flyers to let the community know there is a place where they can purchase clean masks for their health.
"This is an innovative beauty company and we like to uplift our fellow Americans, and this is just a way to raise awareness," and let them know we haven't forgotten about them, she said. "We want to give them opportunities, as well, to put some money back into their communities. So, they can start their own business, put the idea out there to motivate and inspire them to do the same."
For more information about Mental Beauty Supply, visit mentalbeautysupply.com.