CLARA KIRK REMEMBERED AS SAVIOR FOR ABUSED WOMEN AND A CHAMPION FOR ENGLEWOOD
6/24/2020, noon | Updated on 6/24/2020, noon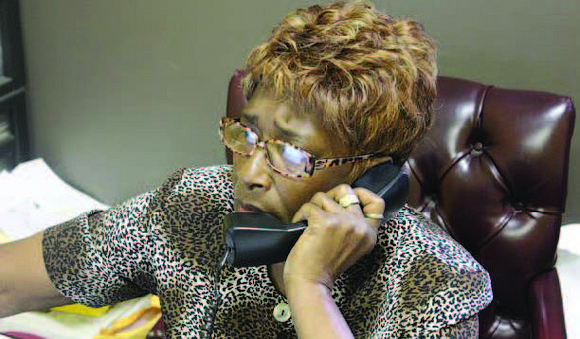 Clara Kirk Remembered As Savior For Abused Women And A Champion For Englewood
Those who knew her best said the late Clara Kirk was more than a philanthropist, but a mother and grandmother to countless women and children she encountered during her time as a champion for the less fortunate.
"One thing about my mom that the average person might not know is that my mother was mean when it came to discipline," recalled her son McKinley Bell, 63. "She was loving, but she did not spare the rod with us [her children] if we got out of line."
And her daughter, Sabrina Burnett, 64, said, "her work at the shelter and her children was her legacy."
According to Bell, Kirk died at home on June 8 at age 79.
Elected officials, community stakeholders, activists, and many residents from Englewood where Kirk lived for more than 20 years attended her June 18 funeral at True Temple of Solomon Church in Englewood.
"I got a chance to witness firsthand the love and compassion that 'Mother' Clara Kirk had for God's people. As a child, I remember my mother [former Alderman Shirley Coleman] taking me to Clara's House on 62nd Street Paulina Avenue," said Ald. Stephanie Coleman (16th), whose ward includes West Englewood. "We bought clothing, food and toiletries for the women and children and her tireless energy and dedication for [the] economic and personal growth of the less fortunate, will forever be etched in the improvements for our community and city."
Ald. David Moore (17th), whose ward includes Englewood, read a Resolution by the city of Chicago at her funeral, and said Kirk was a true servant with a pure heart.
"What she meant to the community of Englewood, our city and me personally, is beyond measure," explained Moore. "To Englewood, she was the mother who cared for families making a difference in the lives of young people by putting a roof over their heads; to the city, she was Clara's House; and to me, she was momma Kirk."
As a community stakeholder, Kirk, a widow, was the founder of the nonprofit West Englewood United Organization, which operated the former Clara's House, a transitional shelter where women stayed up to 120 days, and Clara's Place, a 13-unit apartment building designated for long-term occupants. She founded the organization in 1983 and opened the shelters in 1987 while working as a custodian for Chicago Public Schools where she retired.
During her more than 30 years running the shelter Kirk, like so many nonprofits, faced financial challenges that almost derailed her mission of helping struggling families.
In 2013, the shelters faced closure after Kirk accumulated $41,969 in outstanding fines by the Chicago Department of Buildings. The city of Chicago, later that year, settled with Kirk for $1,000. But Peoples Gas disconnected her service at Clara's House on Oct. 16, 2013 due to a past due bill totaling $21,026.74. Service was restored on Oct. 26 after an anonymous donor paid the bill in full, which included an additional $11,000 paid for the organization's second shelter, Clara's Place. And in November 2013, former NBA player Will Bynum, who once lived in Englewood and attended Crane High School on the West Side, paid the shelter's $3,000 past due electric bill to prevent disconnection.