STATE REPRESENTATIVE CONTINUES LEGACY
7/29/2020, noon | Updated on 7/29/2020, noon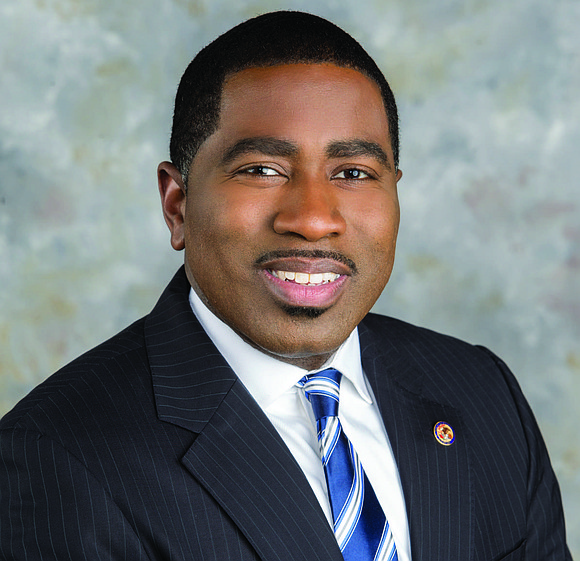 State Representative Continues Legacy
BY TIA CAROL JONES
State Representative Marcus Evans, Jr. of the 33rd District has been in office since 2012. Evans has been working diligently for his constituents for the last eight years. His District extends from South Shore to Sauk Village.
Evans, who watched the Presidential Debates with Bill Clinton in 1992, said he first became interested in politics at an early age, in elementary school. His interest in politics was also displayed early on as a student council member.
A graduate from Samuel Gompers Elementary and Morgan Park High School, he decided to run for office because he wanted to let his voice be heard, whether it was in civic organizations he was a part of or as a member of the church he attended.
When he was a senior in high school, Evans joined the 8th Ward Democratic Organization with John Stroger. "I started to learn how to go get votes and [how to] be an assistant precinct captain," he said, explaining he started from the bottom-up and worked as a volunteer.
For him, getting into politics meant an opportunity to be a part of the decision making process. "That's why I got into politics," he said. These are the people "who craft the policies and decisions for our community," he added, and he wanted to be a part of that.
Evans said one of the politicians he admires most is 8th Ward Alderman Michelle Harris. He worked for her for seven years and he said she helped appoint him to state office.
Describing Harris as his "political mentor," he added, "I watched her work hard in the community, be a 24-hour political servant [and] fight for good policy down in Springfield," he said. "She isn't always the most rambunctious or flamboyant politician, but she really is on the ground for her community."
Besides Harris, Evans said he has a lot of other politicians he admires. He added some of that admiration is based on the speeches they give. He said some of the best advice he's received from other politicians is to do what's right, be thorough about policymaking and to put the time in to researching the issues, because people trust him; and trust is something he can't lose.
Evans went on to discuss his experience as an African American man in the Illinois House of Representatives, adding that Black politicians have a special responsibility.
"Black politicians have a special responsibility to help their white colleagues understand the issues of their community and [to] try to craft policies to be beneficial to our community," he said. While some might not understand, some could not care, or some might be racists, he said, adding as a Black politician, he's been an educator, as well as an advocate for his community; and education is key.
Commenting on his experiences with the police, he said, "Being an African American male, particularly in these times, I've had bad experiences with the police, so I can tell my colleagues these stories are true. These George Floyd stories are true. These Philando Castile stories are true and we must make policy changes," he said.