PARK FOREST-CHICAGO HEIGHTS SCHOOL DISTRICT RECEIVES GRANT TO EXPAND BROADBAND
7/29/2020, noon | Updated on 7/29/2020, noon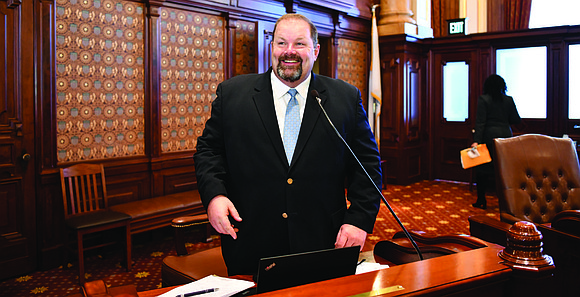 Park Forest-Chicago Heights School District receives grant to expand broadband
BY TIA CAROL JONES
Park Forest-Chicago Heights School District 163 received a $300,000 grant to help the school district expand its high-speed internet.
The grant will benefit the students and families in the community and School District 163 was one of 12 organizations to receive the grant money in this round.
The grant is part of Illinois Dept. of Commerce and Economic Opportunity's Illinois Connected Communities program.
The goal of the grant is to help build capacity in underserved areas. The program serves K-12, higher education and library locations across the state of Illinois.
Illinois State Senator Patrick Joyce, D-Park Forest, said internet access and remote learning capabilities and resources are critical at a time when schools are utilizing remote learning due to COVID-19. He said areas were selected where school districts face some challenges.
Grant money will be distributed in another round this year, Joyce continued. He said $150,000 comes from state grants and another $150,000 comes from philanthropic funds.
According to the State of Illinois' website, Connect Illinois is the largest state broadband matching grant program. It provides the magnitude of funding necessary for state-driven broadband ubiquity as well as lasting broadband equity.
Joyce said as school districts are deciding what is the safest way to have students return to school in the fall during COVID-19, e-learning will also be a part of the back-to-school plan.
"If there's challenges for the student body, this grant is to fill that gap," Joyce said. "This program, state-wide, is going to be enormous," he added. Joyce continued, "[The program] will fill a need that's been going on for five or 10 years and I think the road that we're going down with COVID-19, is part of our new reality and we just need to be prepared for such a thing," he said.
Dr. Caletha White is the superintendent of the Park Forest-Chicago Heights School District 163. "We are always excited about opportunities to support our families and particularly during this time when students are learning from home," White said. She added it's "an amazing way" to provide them with a resource they need.
"We [SD163] will be working with the Village of Park Forest, the Park Forest Library and creating a plan to implement ways to support families that do not have access," White said. "It was very necessary. This helps us level the playing field for our students who did not have access to [the] internet to engage in at-home learning activities," she stated. "This money allows us to support families so they can enhance that experience for their children."