AYO Foods brings West African flavor
7/29/2020, noon | Updated on 7/29/2020, noon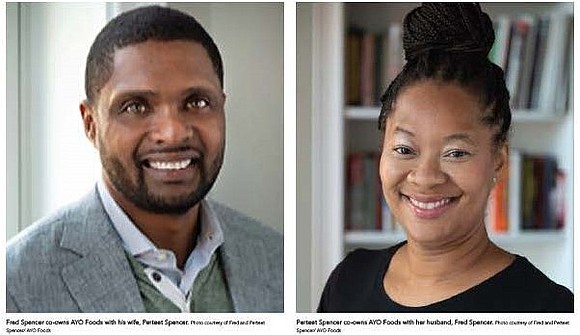 AYO Foods brings West African flavor
BY TIA CAROL JONES
Fred and Perteet Spencer wanted to share the flavors of West Africa, so they created AYO Foods. Th e brand features West African dishes in single serve form that are available in the frozen foods section of the grocery store.
Perteet's father is Liberian and she has spent years in the consumer package space.
"These represent a lot of the dishes we grew up eating in our family," she said.
"We're very central to my upbringing." Perteet said with the signifi cant growth of ethnic items in the frozen food space, they saw an opportunity to bring her family's recipes to the market. Perteet's father also owns a wholesale business where some of the ingredients for the dishes are imported from West Africa.
"As we were looking at the process of him importing these foods and with Perteet's background in CPG (consumer packaging goods), particularly General Mills, we started having those conversations about potentially doing West African cuisine in the frozen foods section at that time," Fred said.
Fred said as the market improved in the frozen food space, they felt the timing was right to strike out with the brand.
The dishes cost $5.99 and three of the dishes, including Jollof Rice, Egusi Melon Soup and Cassava Leaf Stew, are currently available for purchase at Green Grocer, located on 1402 W. Grand Ave.
"We fully acknowledge that West Africa is a region and not a country. And so, we wanted to identify dishes that would resonate across that region. Also, [we wanted to] represent dishes that were very central to our family," Perteet said.
Perteet said all of the dishes do that. She said that Cassava Leaf is a dish her family is very fond of and they have it on every single holiday. Th e dish is Liberian, while the Egusi and Jollof Rice are popular in countries across West Africa.
"We know Jollof Rice is one that is very dear to most West Africans. It's the one that's the most controversial when it comes to which country makes it the best. So, we just decided that would translate across," Fred said.
Ayo Foods was picked up by Whole Foods. It is available in the Southern region now. Perteet said it was an incredible feeling to get picked up by Whole Foods.
"I've worked in consumer-packaged goods for most of my career and Whole Foods really epitomizes one of the accounts that I think many retailers look up to because they tend to be very on trend. To have, as our first account, such a well-respected retailer, means a lot to us, personally, but we also think it's a really good marker for the potential for this platform more broadly," Perteet said.
Fred said they sent Whole Foods the samples and the response was overwhelmingly positive right away. And, while they would have wanted to start in the Chicago area first, the Whole Foods marketing strategy is to start in the South. They are also partnering with other independent and regional grocers. They said it is important to have retail in the communities they live in.
"Fred and I have been trying to build this business and so we've got a lot of experience in this space for over a year and a half because we wanted to be really thoughtful about doing it the right way," Perteet said.
Fred said there was a lot of fl ying around the country to find a co-manufacturer that would take a chance to develop the product and Perteet wanted to make sure the dishes were produced to their standards.
"Doing it in a way that's authentic and high quality, is of utmost importance to us and so we're surrounding ourselves with partners who share those same values," she said. Perteet added, when you share a part of yourself, "it's always exciting to see people embrace that."
The response has been overwhelmingly positive, she said. "We're really excited for more people to experience a part of our culture."
For more information about AYO Foods, visit www.ayo-foods.com.