MasterClass Follows the Beat with Legendary Drummer Sheila E.
7/22/2020, noon | Updated on 7/22/2020, noon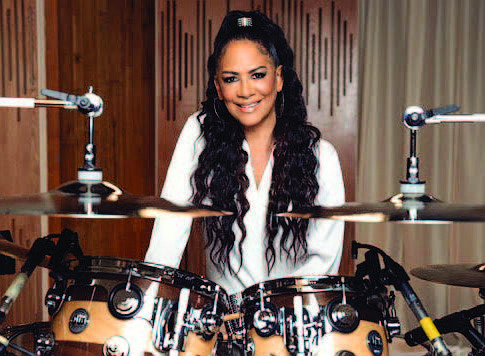 MasterClass Follows the Beat with Legendary Drummer Sheila E.
MasterClass, the streaming platform that makes it possible for anyone to learn from the best, recently announced that Emmy and Grammy nominated Queen of Percussion, Sheila E. will teach its first class on drumming and percussion.
Through a series of dynamic lessons, Sheila E. will help members find their rhythm, explore the fundamentals of percussion and drumming and share intimate stories and career advice for aspiring musicians.
The class is now available at MasterClass.com, and members can subscribe for unlimited access to all new and existing 85+ classes through the All-Access Pass.
MasterClass categories include business, culinary arts, film & television, music & entertainment, photography, sports and more.
"Sheila E. is a musical pioneer," said David Rogier, co-founder and CEO of MasterClass. "Her MasterClass is a rare opportunity for members to learn drumming and percussion from a legend—and you don't even need a drum set to get started. Sheila E. is nothing short of inspiring and magical."
Sheila Escovedo, best known to music fans as Sheila E., first picked up drumsticks and started making music at the age of three. Inspired by her percussionist father, she delivered her first solo performance to a live audience only two years later and has since established herself as one of the most talented percussionists in the world.
By the age of 20, Sheila E. was already a top session and touring musician, performing with some of the industry's biggest names such as Marvin Gaye, Diana Ross, Lionel Richie, and Stevie Nicks. In the 1980s, her undeniable talent and hits like "The Glamorous Life" and "A Love Bizarre" led to her international fame.
Sheila E.'s producing, arranging and performance talents have been showcased in the music industry through numerous Grammy nominations and performances with the likes of Beyoncé, Hans Zimmer, Jennifer Lopez and Pharrell Williams.
Away from the spotlight, she co-founded the Elevate Hope Foundation, which helps young people heal from trauma or neglect through music and art. Sheila E. continues to produce and perform music across the globe and her most recent album, Iconic: Message 4 America, pays tribute to songs that have defined movements fighting for justice and peace.
"I am honored to be the first-ever drummer for MasterClass," said Sheila E. "When you know what your passion is and what your purpose is, no one and nothing can stand in your way. In my MasterClass, I will share my passion and teach members the fundamentals of percussion, drumming and hopefully, inspire them to make their own music."
Sheila E.'s MasterClass will take members on a musical journey through her dynamic world of rhythm, percussion, and drumming. Rooted in the belief that anyone can learn to drum, she will demonstrate how to find rhythm by moving, clapping, and using household items like pots and pans.
Not only will Sheila E. bring the foundational techniques of drumming to life, but she'll also teach you how to play some of her most beloved instruments, including the congas and timbales, with help from her father, renowned percussionist Pete Escovedo, and her brothers, Peter Michael and Juan. Sheila E. will share intimate stories and insight from her experiences capturing the spotlight on stage alongside some of the world's greatest talents, to rising to fame as a solo artist and becoming one of the world's most famous Latin percussionists.
Members will begin by learning the principles of rhythm and basic rudiments on the American drum set, in addition to music theory. The class will also cover intermediate concepts, such as leading a band, training tips, performance techniques and career advice. MasterClass members at all experience levels will master basic drumming techniques and develop a language for drumming that will inspire them to make music and play with others.
Sheila E.'s class joins the 85+ classes taught by world-renowned instructors on culinary arts, photography, writing, performance and much more. Each MasterClass has digestible video lessons sized to fit into any part of your day and cinematic visuals with close-up, hands-on demonstrations that make you feel one-on-one with the instructor. The All-Access Pass gives you access to every MasterClass and new ones as they launch. Learn on the go with mobile apps or in the comfort of your home with Apple TV®, Amazon Fire TV, Android TV and Roku® devices. Subscribe at MasterClass.com.
MasterClass's current roster of courses includes:
Business, Politics and Society: Jane Goodall (conservation), Bob Woodward (investigative journalism), Karl Rove and David Axelrod (political campaign strategy), Paul Krugman (economics and society), Howard Schultz (business leadership), Anna Wintour (creativity and leadership), Sara Blakely (self-made entrepreneurship), Bob Iger (strategy and leadership), Doris Kearns Goodwin (U.S. presidential history and leadership), Chris Voss (art of negotiation), Goodby and Silverstein (advertising and creativity), RuPaul (self-expression and authenticity), Robin Roberts (effective and authentic communication)
Culinary Arts: Gordon Ramsay (cooking), Alice Waters (home cooking), Thomas Keller (cooking techniques), Wolfgang Puck (cooking), Dominique Ansel (French pastry), James Suckling (wine appreciation), Aaron Franklin (Texas BBQ), Massimo Bottura (Italian cooking), Gabriela Cámara (Mexican cooking), Lynnette Marrero and Ryan Chetiyawardana (mixology), Ron Finley (gardening)
Film and Television: Werner Herzog (filmmaking), Martin Scorsese (filmmaking), Ron Howard (directing), Spike Lee (filmmaking), Mira Nair (independent filmmaking), Jodie Foster (filmmaking), Ken Burns (documentary filmmaking), Helen Mirren (acting), Samuel L. Jackson (acting), Judd Apatow (comedy), Aaron Sorkin (screenwriting), Natalie Portman (acting), David Lynch (creativity and filmmaking)
Lifestyle: Bobbi Brown (makeup and beauty), Kelly Wearstler (interior design)
Music and Entertainment: Steve Martin (comedy), Christina Aguilera (singing), Usher (performance), Reba McEntire (country music), Herbie Hancock (jazz), Deadmau5 (music production), Armin van Buuren (dance music), Hans Zimmer (film scoring), Tom Morello (electric guitar), Carlos Santana (art and soul of guitar), Timbaland (producing and beatmaking), Penn & Teller (magic), Itzhak Perlman (violin), Danny Elfman (music for film), Shelia E. (drumming and percussion)
Writing: James Patterson (writing), Shonda Rhimes (writing for television), David Mamet (dramatic writing), Judy Blume (writing), Malcolm Gladwell (writing), R.L. Stine (writing for young audiences), Margaret Atwood (creative writing), Dan Brown (writing thrillers), Neil Gaiman (storytelling), Billy Collins (poetry), David Baldacci (writing thrillers), Joyce Carol Oates (short story writing), David Sedaris (storytelling and humor)
Design, Photography and Fashion: Frank Gehry (architecture), Diane von Furstenberg (how to build a fashion brand), Annie Leibovitz (photography), Marc Jacobs (fashion design), Jimmy Chin (adventure photography), Will Wright (game design)
Sports and Games: Serena Williams (tennis), Stephen Curry (shooting, ball-handling, and scoring), Garry Kasparov (chess), Daniel Negreanu (poker), Phil Ivey (poker strategy), Simone Biles (gymnastics), Misty Copeland (ballet), Tony Hawk (skateboarding)
Science and Technology: Chris Hadfield (space exploration), Neil deGrasse Tyson (scientific thinking and communication)
For more information, please visit www.masterclass.com.
Follow MasterClass:
Twitter @masterclass
Instagram @masterclass
Facebook @masterclassofficial
Follow Sheila E.:
Twitter @SheilaEdrummer
Instagram @SheilaEdrummer