MARCH CALLS FOR EQUITY AND MOVES FOR COLLABORATIVE BLACK CHICAGO
7/1/2020, noon | Updated on 7/1/2020, noon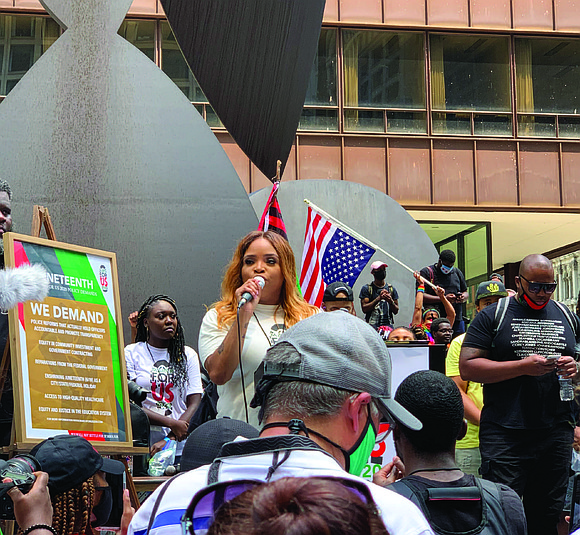 March calls for equity and moves for collaborative Black Chicago
BY TIA CAROL JONES
On Friday, June 19, marchers took to the streets of downtown Chicago, holding Black Lives Matter signs while a brass band played "When the Saints Go Marching In." Once they arrived in Daley Plaza, people started to do the electric slide as Beyonce's "Before I Let Go" played.
In the wake of the deaths of George Floyd, Breonna Taylor, Rayshard Brooks and Ahmaud Arbery, marches calling for an end to racial injustice and the killing of unarmed Black people have heightened.
The March for Us 2020, spearheaded by Ashley Munson, started on State Street and made its way over to Dearborn. It was one of several marches in Chicago that took place on Juneteenth.
Munson said the march was a collective effort, with Black-owned businesses and community organizations coming together to make the event happen.
"This could not have happened without everyone coming together, putting their money where their mouth is," she said.
Munson said while she is more on the policy and political side of organizing, working in Springfield, organizing from the ground up was new to her. She uses her social media platform to educate people about politics.
"I'm always looking for ways to bring people together and make our message elevated. It just worked out that on the day we celebrate freedom for Black individuals, that should be the day we make these demands and have the march," she said.
The demands include police reforms that actually hold officers accountable and promote transparency; equity in community investment and government contracting; enshrining Juneteenth as a city, state and federal holiday; access to high-quality healthcare; and equity and justice in the education system.
"Our goal today is [to] offer you a reason to hope again. While March for Us 2020 was once an idea, and now here we stand in its reality, we do hope our demands start as ideas, but in reality, they will be met," she said.
Munson added "it will take time, collaboration, sacrifices and endurance, but we won't let up," she said. "This march is the beginning of a more collaborative Black Chicago, where we will work together to make our demands legislation and the law."
Illinois State Representative Kam Buckner said while Juneteenth is the journey for Black people, it is not the destination.
"Past is prologue and we're required to use our past to inform our future. This is not a time for tranquility, it is not a moment to be modest. This time will be different because this time must be different," Buckner said. "The past is not our fault, but if we don't do the right thing, the future will be."
Buckner said he could feel the energy in the streets and feel the energy in Daley Plaza.
"I know we're ready to fight racial injustice, inequality, corporate greed, cronyism, militarism and mass incarceration. We want to dismantle this system," he said.
Buckner said the people are demanding freedom. He talked about poverty, unemployment and healthcare inequality.
"We realize that we live in a society where employment is up, jobs are down, poverty is up, degree attainment is down, incarceration numbers are up, homeownership is down. The things that should be up are down and that are down should be up. We're living in a society that is upside down, but we're going to turn it right side up," he said. "If we are inspired by nothing else on this Juneteenth holiday, it should be this, never ever again in our history will we be the last people to know that we are free."