IS ENGLEWOOD REPRESENTED BY TOO MANY ALDERMEN?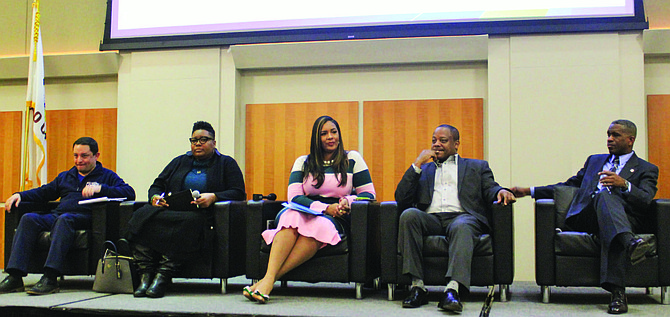 ---
Is Englewood Represented by Too Many Aldermen?
BY WENDELL HUTSON
Contributing Writer
There are 77 communities in Chicago including Englewood on the South Side where five aldermen represent it at City Hall.
The predominately black populated community is represented by Ald. Roderick Sawyer (6th), Ald. Raymond Lopez (15th), Ald. Stephanie Coleman (16th), Ald. David Moore (17th), and Ald. Jeanette Taylor (20th).
For the last 20 years, crime, unemployment and low, economic development have plagued the community and two aldermen question whether that's due to over representation.
"I think five aldermen representing any community is way too many. I think one or two would be more feasible," said Taylor. "It does not make sense that the ward remap, which takes place every 10 years, is based on density and not geographically and it's an unfair process."
While the ward remap occurs this year and follows the U.S. Census, Taylor said historically, the ward remap hasn't worked. Moreover, she added all five alderman have different visions for their wards.
"When you have too many 'cooks in the kitchen' it's never going to work. We need to change the way things are done to determine wards in Chicago and that starts with a conversation with our state legislators," said Taylor.
Two of the biggest issues facing Englewood today are a lack of economic development and affordable housing, contends Taylor.
"There's too much vacant space in Englewood from empty lots and boarded up businesses to dilapidated houses, and all that space breeds crime," she explained. With the addition of new developments, crime in Englewood would be reduced "dramatically," she said. The five Englewood aldermen sponsored a Jan. 14 town hall meeting at Kennedy-King College to hear and answer concerns from the community.
Coleman, who was elected last year as the youngest, black female alderman at age 30, organized the first-time town hall meeting.
"We were all sitting around during a break from a budget meeting and I suggested we all get together for a community meeting and my colleagues were in full support," recalled Coleman nicknamed the 'Daughter of Englewood' aft er growing up there.
"I agree with Ald. Taylor that housing and economic development are key issues facing Englewood and until it is addressed, neighborhood improvements will be slow coming."
But regardless of how many aldermen represent Englewood, which Coleman described as a "community of love," she added that as long as all leaders "work cohesively together, things can get done because we have some great leaders."
López, who agreed with Taylor's assertion that there are too many aldermen, said the greatest challenge he sees facing Englewood today is the steady population decline.
"Finding drivers to rebuild our community as a whole (is needed) and that includes finding new jobs to bring into the community," explained Lopez. "Right now, as it stands, if our population keeps decreasing, we're going to wind up like certain stretches on the West Side where there's nobody left in the neighborhood, and we can't have that in a neighborhood like Greater Englewood."
According to census data, Englewood has a population of 26,121 and the boundaries of West Englewood are Garfield Blvd to the north, Racine Avenue to the east, the CSX and Norfolk Southern RR tracks to the west, and the Belt Railway of Chicago to the south.
Joining the aldermen at the townhall meeting to talk about Mayor Lori Lightfoot's plan to boost economic development in underserved communities was Maurice Cox, commissioner for the city's Planning and Development Department. Cox discussed the mayor's newly created INVEST South/West initiative that he said would leverage resources from public, private and nonprofit sectors to revitalize
commercial corridors in 10, economically challenged neighborhoods.
Those neighborhoods are Englewood, Roseland, South Chicago, Auburn Gresham, South Shore, New City, Humboldt Park, Austin, North Lawndale, and Quad Communities.
The mayor told the Citizen that the program is geared towards "reversing decades of disinvestment on Chicago's South and West Sides."
More than 500 people, mostly Englewood residents, attended the town hall meeting where aldermen discussed their vision for improving the quality of life in Englewood.
Susan Wade, 50, attended the meeting with her mother, and said they both lived in Beverly on the Southwest Side for 22 years before moving to Englewood.
"What Englewood needs is more amenities like a sit-down restaurant, grocery stores and places that matter to the community," said Wade. "And we don't need another liquor store or beauty supply store. It seems like when a busi- ness shuts down, it is replaced by one of these stores and neither one is good for the community in my opinion."
---