VEGAN FAST FOOD CARRYOUT OPENS ON 87TH STREET
2/19/2020, noon | Updated on 2/19/2020, noon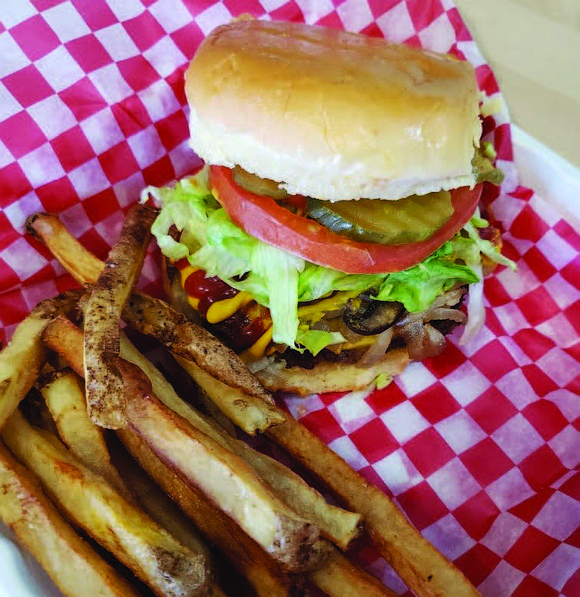 Vegan fast food carryout opens on 87th Street
BY TIA CAROL JONES
Plant-based dieting is said to be the biggest health trend of 2020 and a new South side restaurant is capitalizing on its popularity and health benefits. Plant Based Junkie, a vegan fast food carryout, opened Monday, Jan. 17, at 1635 ½ E. 87th St.
Owner Bobbie Beaugard has been a vegan for 2 ½ years. She described Plant Based Junkie as junk food for vegans. And, she described herself as a junk food vegan.
"I know that plant-based and veganism is becoming really really big," she said. "When I went vegan, it was hard for me to find things to eat."
Beaugard said she also doesn't like to try new things and wanted to stick to more familiar things. She started telling people what she ate and they saw her eat burgers and fries.
"Oh, I'm a junk food vegan, this is how I eat," she said. "Me being vegan and started cooking and coming up with different recipes and with different things to eat, I said, 'This would be a dope concept for a restaurant.'"
I want to stick to junk food and the junkier side to plant-based. She said she wanted to have items that are familiar but plant-based or not meat. Menu items include burgers, fries, chili cheese fries, Chicago-style bratwurst nachos and tacos.
"I give people an opportunity to try it and they're like, 'Oh my god, it's not meat, but it's vegan,'" she said.
Beaugard said the items range in price from $7 to $14. The menu includes plant-based chicken nuggets and the Junkie Burger, which has vegan American cheese, smashed avocado, sautéed mushrooms and grilled onions, crispy onion strips, lettuce, pickles, tomato, with a garlic and onion aoli. She said the Junkie burger is a signature burger and one of her favorites, along with the nachos.
"If you taste the nachos, the cheese is really good. Some people do cashew cheese. I have a non-dairy, actually vegan cheese sauce," she said.
Beaugard said her vendor for her patties is Impossible Burger. She said she taste-tested other plant-based vegan burgers but she liked Impossible better.
"I was driving miles, all the way downtown to try it," she said.
Beaguard was looking for a location for a while and chose the 87th Street location because of a family connection to the neighborhood. She also used to work down the street.
"This neighborhood really didn't have anything like that here," she said. "It's healthier. There's not even options in the other restaurants."
Beaugard acknowledged that before she opened, there wasn't a plant-based, vegan restaurant in the community. People would have to drive to Hyde Park. She said she received messages on Facebook and asked about when she was opening the restaurant.
"They were saying, 'we really need you over here.' I told them, 'I'm opening up for y'all I swear,'" she said.
Beaugard said she is ready to let the community residents try her food.
"I'm super excited. I think this will work out really well here," she said.
For more information about Plant Based Junkie, call 773-902-7467, or visit the Plant Based Junkie Chicago Facebook page.