TOOLS AND WRITING OF FREDERICK DOUGLASS ON DISPLAY
2/19/2020, noon | Updated on 2/19/2020, noon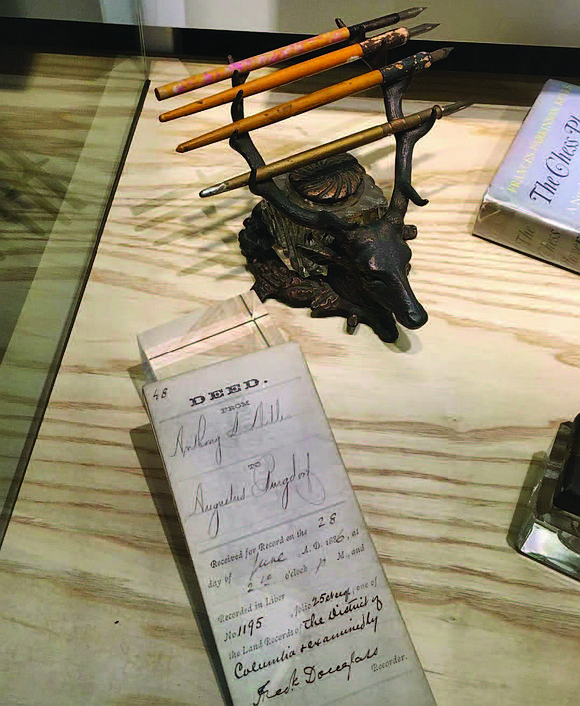 Tools and writing of Frederick Douglass on display
BY TIA CAROL JONES
To commemorate Black History Month, American Writers Museum has curated a Frederick Douglass Tour to showcase some of the artifacts from the writer it has in its collection.
The tour is free with museum admission and features guided tours of Douglass's artifacts throughout the museum.
"Douglass is featured in the museum in a couple of places because of his importance to writing and history," said Carey Cranston, the museum's president. Cranston added there was a temporary exhibit on Frederick Douglass, titled, "Frederick Douglass: Agitator" from June 2018-June 2019.
Cranston said Douglass's importance to writing and history include how his work as a writer and abolitionist interconnected with other famous figures in Black History.
"It was because of Frederick Douglass at the Columbia Exposition that Ida B. Wells put out a pamphlet. That's what made her a famous activist," he said.
Cranston went on to connect Douglass and the Columbian Exposition in 1893 and Paul Laurence Dunbar at Negro Day.
"He went on to have a very successful career," Cranston said of Dunbar.
He added, Dunbar had a line in his poem "I know why the caged bird sings," which was the title of a Maya Angelou book.
Cranston said Douglass is featured in the museum's permanent exhibit titled, "A Nation of Writers." It features writers in America from the last 400 years.
"When we talk about Frederick Douglass, we think about his impact on history and culture. His writing and speeches changed the way people thought," he said. "The abolitionist movement was given this voice when he escaped slavery. He escaped to freedom and changed the world. He used his words to change the way people think."
Cranston added, while people think of Douglass for "The Life and Times of Frederick Douglass," he had an impact during and after the Civil War. Cranston noted during a speech Douglass gave, he lectured the Republican party about the necessity of the Black vote.
"He had the capacity to tell people the truth and have absolutely no fear, he was an amazing voice," he said. "When you think about American writers and what American writers made an impact, you have to celebrate Douglass and his work."
In addition to the Frederick Douglass Tours, Little Squirrels Storytime, dedicated to Black writers, will take place each week on Saturdays in February. It will include the works of Maya Angelou, Langston Hughes and Gwendolyn Brooks.
Since the museum opened in 2017, it has featured interactive exhibits -- touch screens and things guests can turn. Artifacts displayed are mostly on loan from collectors. There are places for people to reflect and write. Cranston described it as "very visual and engaging."
The museum, located on 180 N. Michigan Ave., is open from 10 a.m. to 5 p.m. daily. The tour will take place twice a day, at 1:30 and 4 p.m. Cost is $14 for adults; $9 for seniors; $9 for students and teachers, with a valid ID; and free for children younger than 12. For more information, visit americanwritersmuseum.org or call 312-374-8790.