South and West side Clergy endorse Kim Foxx
2/19/2020, noon | Updated on 2/19/2020, noon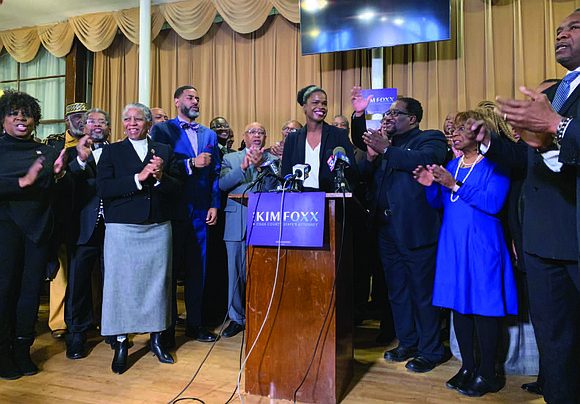 South and West side Clergy endorse Kim Foxx
BY TIA CAROL JONES
Cook County State's Attorney Kim Foxx stood surrounded by clergy members from the South and West sides as they endorsed her to continue the work she has done in that office for the last four years.
The endorsement took place at First Baptist Congregational Church of Chicago where the Rev. George W. Daniels is the pastor. Referring to the church's history and its place in civil rights, Daniels said, "It has been on the forefront of the civil rights movement. It's always active," he said. "It's just exciting to know that we are here."
The Reverend Ira Acree, of Greater St. John Bible Church, said he was excited to be in the presence of other church leaders. "I am very excited about the work that Kim Foxx has done," he said. "She has kept her promise, she said she was going to reform the criminal justice system. Eleven more people had their crimes exonerated. That's a big deal."
Acree said the work Foxx has done in Cook County has become something other communities have started to do.
"Because of the way black and brown people were treated, no parity, no equity, just a system of apartheid, this young lady said not on my watch," he said. "The work that she has done here in this county has now become a National model for Urban America."
The Rev. Dr. Otis Moss III of Trinity United Church of Christ said he stands with Foxx because she is qualified and progressive.
"She is dismantling the mass incarceration system," he said. "Now, we have an attorney for the people, we are excited and we stand with her."
Moss said the coalition of church leaders that stand with Foxx are a marker of communities across the land.
"We are supporting her because she is one who is deeply committed to our community," he said.
Bishop Larry Trotter, of Sweet Holy Spirit Church of Chicago, said Foxx's record as State's Attorney speaks for itself.
"At the end of the day, she is the woman who is helping our young people. She is the one our young people look up to. We believe she is the woman for the job," he said.
Trotter recited the verse in Esther, "she came into the kingdom for such a time as this."
"Kim is one of ours. We're going to be pushing Kim Foxx back into the seat that she may continue to do the work," he said.
Other clergy described Foxx as a champion of criminal justice reform and they talked about how she righted the wrongs of wrongly incarcerated people.
Foxx said she grew up in the Black Church and was encouraged to be surrounded by so many Black ministers.
"It has been the faith community that has pulled me through some of the most difficult moments," she said.
She said there is a reason why she talks about her upbringing in Cabrini Green wherever she goes.
"It is testimony for me, to be able to know what's possible when our leaders invest in those communities," she said. "But that's what we're fighting for, our young people in neighborhoods in all across the city."
Foxx also talked about the way the criminal justice system was being used as an oppressive tool against poor people and how she was committed to righting the wrongs of the past. She also discussed the distrust between the Black community and law enforcement.
"We have to be just as intentional of righting the wrongs of the past. It's admitting the war on drugs was really a war on poor, black people," she said. "It's not enough to say 'yeah we know,' you gotta make it right."
Clergy chanted "Four more years" at the end of the press conference.
Foxx is running against former Alderman Bob Fioretti, Donna More and Bill Conway. The primary is Tuesday, March 17. Early voting begins on Monday, March 2.