Organizations partner to create initiative that makes Chicagoans visionaries
2/19/2020, noon | Updated on 2/19/2020, noon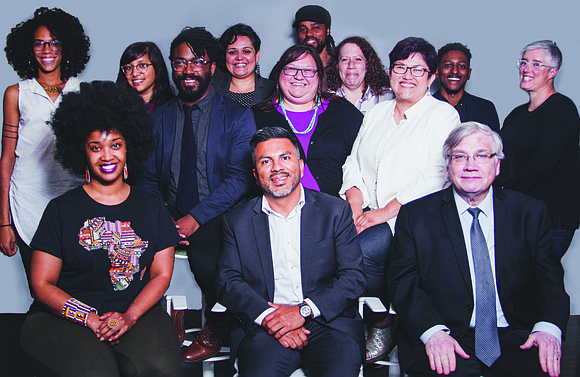 Organizations partner to create initiative that makes Chicagoans visionaries
BY TIA CAROL JONES
In 2019, the Field Foundation and MacArthur Foundation partnered to create the Leaders for a New Chicago. It awarded individuals from the community and their organizations $25,000 each, in an effort to support the ideas that would improve the city.
There were 14 leaders who received that first award. It was so successful that the foundations are accepting applications for its 2020 award.
Those eligible for the award include leaders who have been existing grantee organizations of the Field or MacArthur Foundation within the last three years. Those leaders can be from justice, art media and storytelling.
While the Field Foundation has been working exclusively to fund in Chicago communities since 1940, the MacArthur Foundation funds globally to transform issues or people's lives.
Angelique Power, president of the Field Foundation, said both foundations looked at leadership, what the word means and what does it look like. And, what would it look like for the two foundations to partner.
"We came to the table with different skills and different histories and different things we could offer in the leadership area," she said. Power said what makes this award unique is that the $25,000 in cash goes directly to the individual to spend anyway they want. And, the organization also receives a matching $25,000.
"We really wanted to match that to give the leaders freedom to really do whatever they wanted to do with the dollars," she said. "Often, dollars come with seen and unseen strings attached. We are clear that the point of this is for people to be in charge of their own destiny."
Power said they are not waiting for the individuals to prove they are leaders. "We already know they are powerhouses, and that they are leaders. We want them to teach us what leader means by how they use their funds," she said.
Power said the Field Foundation funds community organizers, artists and journalists. "It doesn't matter if you lead an organization, it doesn't matter if you are entry-level at an organization. We don't think titles define leadership."
Power said it was so successful last year because the visionaries are not often recognized. She said often they are overworked and underpaid. She said Field and MacArthur went out of their way to make sure people knew about the award. And, people are able to nominate themselves or people they work with.
"People are used to having to apply and go through a rigorous process," she said. "This is a quick catapult into somebody's life."
Power said last year, there were almost 200 nominations and it wasn't easy to pick the 14.
"There are incredible people across Chicago doing transformative, life changing work," she said. "Leadership is really folks that influence other folks. And, how you wield your influence."
Tonika Johnson is one of the recipients of the award. The community activist and artist created the Folded Map Project, which looked at Urban Segregation by visually connecting residents on the North and South sides of Chicago.
"It allowed me to take a leap and be a full-time artist. I could expand the reach of my project, which uses art to amplify issues that are important for our city to address, especially the issue of racial segregation," she said in a release.
Power said that for the size of the Field Foundation, $50,000 is a substantial award. And, while the goal is to do about 10-15 individuals a year, she would welcome other organizations to come and partner to expand.
Over the course of three years, they are looking to fund about 50 leaders.
The deadline is Monday, March 2. To apply for the Leaders for a New Chicago award, visit fieldfoundation.org/leaders-new-chicago.