GROUP THAT EMPOWERS YOUNG GIRLS SEEKING NEW APPLICANTS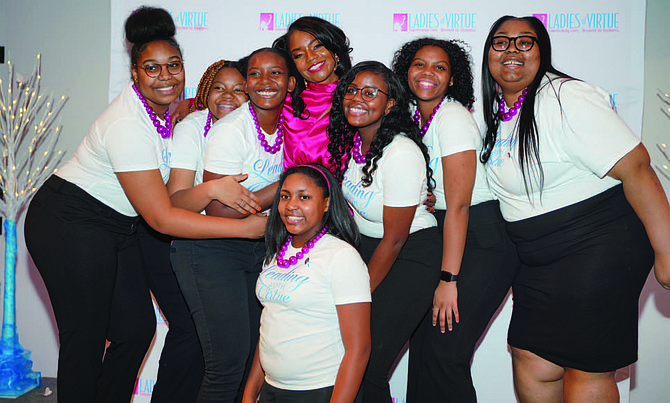 ---
Group that empowers young girls seeking new applicants
BY TIA CAROL JONES
Jamila Trimuel launched Ladies of Virtue in 2011 as a way to instill purpose, passion, and perseverance in girls, ages 9 to 18, as well as to prepare them for college, careers and to become change agents in their communities.
Now, Ladies of Virtue has opened up registration for its Saturday Institute, a nine-month program which will take place from September 2020 to June 2021. Its goal is to develop the young girls into leaders through training and give them exposure to higher education, with college tours, and career opportunities through summer jobs and internships. The participants would also earn service-learning hours and participate in a civic engagement project.
"We are all about standing in the gap for our girls who may not have positive role models in their life. And, we're all about empowering our girls to be confident leaders," Trimuel said.
Trimuel said growing up on the South Side of Chicago, her father instilled in her that she could do anything she set her mind to. She was encouraged to pursue her goals and to aspire to go to college. She said she noticed some of her peers did not have the same positive reinforcement. "I saw, at a fairly early age, how positive role models could change the trajectory of your life," she said.
In college, she became a mentor to help freshmen students navigate their way through college life. She said she's been mentoring since her time at the University of Illinois – Champaign-Urbana.
Trimuel said during her 15 years as a mentor and from her experience, what young women need most is to be heard, to be listened to, to be acknowledged, to be supported and to be nurtured.
She said one of the reasons why she started Ladies of Virtue, is because, oftentimes, there are girls who have been neglected and cast aside. "They're going through so much and feeling as though they don't have anyone to talk to, anyone to turn to," she said. "One of the key attributes that Ladies of Virtue provides is that mentoring where we're walking life-on-life with our girls. We become that village that our girls need."
Trimuel said that means attending report card pickup nights and basketball games. She said the mentors are also talking to the parents or doing whatever they can to make the family unit stronger. She said that mentoring piece is the No. 1 component of the organization.
With the civic engagement program, the girls identify a cause that is meaningful to them and the organization partners with a community organization that is doing that work. The girls are taking what they learn and doing workshops.
"They're able to tap into their passion and spread it to their peers and teach their peers about certain topics they're passionate about," she said.
Trimuel added topics throughout the years, have included human trafficking, mental health and bullying. The girls have to present the impact to community leaders and executives.
Last year, the top three groups that presented went on a trip to New York City. "Many of our girls are so creative, they're so passionate about some of the things that are going on in the world. They need an outlet, they need a way to get their voices heard," she said. "That's what Ladies of Virtue is all about. We're providing that support, but we're also giving them an outlet so they can grow to become purpose-driven and confident leaders."
Saturday Institute will take place on the first and third Saturday of each month from 1:30 to 4:30 p.m. from September to June.
The deadline for the application is Monday, Aug. 31. To apply, visit https://www.lovchicago.org/saturdayinstitute .
---