FITNESS TRAINER OFFERS VIRTUAL TRAINING
8/26/2020, noon | Updated on 8/26/2020, noon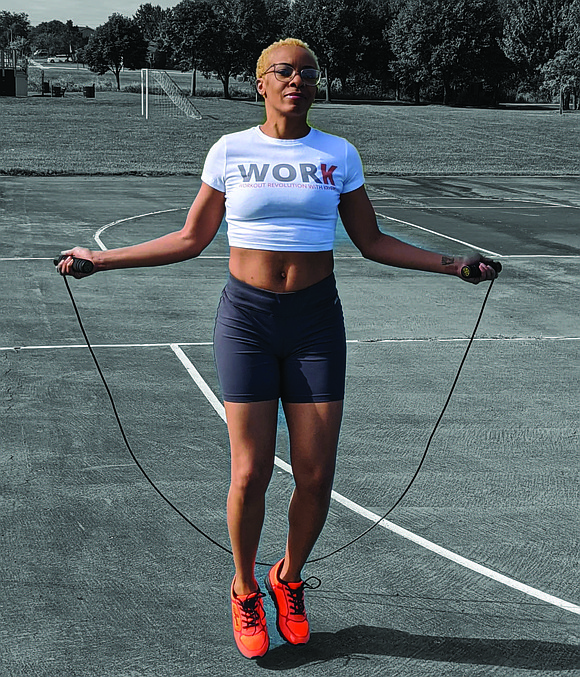 Fitness trainer offers virtual training
BY TIA CAROL JONES
People who still want to maintain their health and wellness by engaging in physical exercise and activity, but are not comfortable going to gyms and fitness centers, are turning to virtual training programs.
Krystal Taylor is offering free daily virtual trainings on her website, fitnessisnotagame.com. Taylor is a certified personal trainer and fitness nutritional specialist, who said her journey is different than most people in fitness.
"I didn't know that I wanted to get into it until I started challenging myself after I had my younger son," Taylor said. "Fast forward, I decided to do the ultimate challenge for myself and I did a figure competition in 2014."
Taylor soaked up the information during the entire process and started providing free workouts and meal plans to people.
"My husband, who is a serial entrepreneur said, 'I think you found your passion,'" she said. "When I started helping people and seeing the changes, I was like 'OK, this is what I need to do.'"
Taylor said even before COVID-19 caused gyms and fitness centers to close, she had been advocating for people to exercise outside the gym and fitness center setting. She said she was not comfortable with the cleanliness of gyms and fitness centers and wanted to offer people an alternative.
"A lot of people stay away from exercising because they don't have a lot of time, they don't have equipment. So, my goal was to give them quick, 30-minute workouts they could do in their living room, with no shoes on and still burn calories," she said.
Taylor also has a FitnessIsNotAGame deck of playing cards. On each card, there is a different exercise, with text and a graphic to tell you how to do the exercise, as well as how many reps of the exercise to do. She said when she told people about the cards and the name, people really responded to it. She added she likes to have fun with her workouts and hopes people feel the same.
"If you're not going to enjoy it, you shouldn't do it," she said. "You don't have to do traditional workouts in a gym lifting weights, make it fun, so you'll stick with it."
Taylor started doing the virtual trainings via Facebook during the first months of the COVID-19 stay-at-home orders. Her training videos could be found on the Black and Married with Kids Facebook page. The original recording got 22,400 views and the replay got another 15,000 views a few days later.
After that, she moved the trainings to her own site, as well as to her YouTube page. There is also an option to work with Taylor one-on-one virtually via the website. The Workout Revolution with Krystal (WORK) four-week fitness program costs $247 and includes an exercise and meal plan, a weekly group Q&A session, as well as a PDF of the plan.
"People need to move away from thinking they have to be in the gym for hours at a time and that they can do it at home, quickly with no equipment at all and just not to make excuses. It's just about moving your body and being active and do something you enjoy," she said. "Whether its skating, skipping, running, jogging, dancing, I just want people to get moving so they can be healthier. It's not about weight loss, it's about health and living longer."
For more information about the virtual trainings, visit fitnessisnotagame.com.