MENTORING ORGANIZATION FOR YOUNG WOMEN PREPARES TO CELEBRATE 8TH ANNIVERSARY
10/30/2019, noon | Updated on 10/30/2019, noon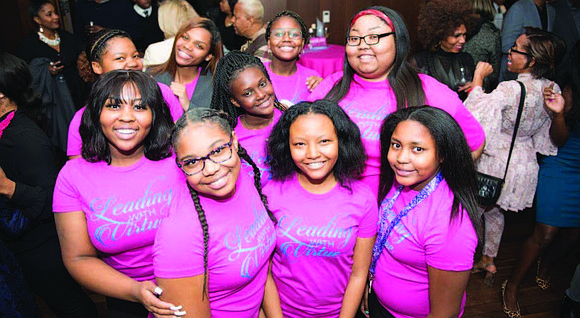 Mentoring Organization For Young Women Prepares To Celebrate 8th Anniversary
BY KATHERINE NEWMAN
Ladies of Virtue, a nonprofit mentoring organization for girls, will soon celebrate its 8th anniversary by hosting the Leading with Virtue Cocktail Reception on Nov. 7 from 6 p.m. to 9 p.m. at Venue Six10 located on 610 S. Michigan Ave. During the event, Ladies of Virtue will honor seven professional women who represent the ideals that the organization aims to instill in young women.
Ladies of Virtue is an organization that targets young women from the south and west sides of Chicago to provide them with mentors, career-readiness training, character-building exercises, and opportunities for civic engagement. Over the last eight years, Ladies of Virtue has been able to serve over 1,000 girls from Chicago and the nearby suburbs, according to information provided by Ladies of Virtue.
"Ladies of Virtue is a mentoring and leadership program for girls, specifically black girls primarily coming from the south and west side of Chicago," said Jamila Trimuel, founder and CEO of Ladies of Virtue. "What Ladies of Virtue does is that we literally stand in the gap for girls who may not have positive role models to help steer and guide them along the way. We prepare them for leadership in three ways, and that's through character development, career readiness, and civic engagement. Our purpose is to make sure that our girls can really become confident and purpose-driven leaders in today's society."
Trimuel grew up in South Shore and said that she was lucky to have parents who encouraged her to follow her passions and live a purpose-driven life but she noticed at a young age that some of her friends didn't have great role models at home.
While in college, Trimuel began mentoring and said that she often wondered what some of her childhood friends would have been able to achieve if they had access to more positive role models in their lives.
"I had friends whose parents may have been in the home but not in a positive way and I saw how their lives took a totally different path," said Trimuel. "I started mentoring as a sophomore in college to help freshman girls navigate their way through college at the University of Illinois and honestly I haven't looked back and I've been mentoring ever since then."
Ladies of Virtue launched in 2011 with six girls and over the last eight years, the organization has grown to serve 150 girls per year. The girls participate in 9-months of programing that was created to instill purpose, passion, and perseverance in them. The program includes a mentor for each girl, leadership development training, career exploration opportunities, college tours, community service activities, and summer job placement.
"Our girls start in September and throughout the nine month program, our girls know that they're preparing to build a healthy character in terms of becoming a lady of virtue," said Trimuel.
To learn more about Ladies of Virtue, visit www.lovchicago.org.