WOMAN-OWNED MINORITY ENTREPRENEURSHIP NETWORK PREPARES TO OPEN EVENT VENUE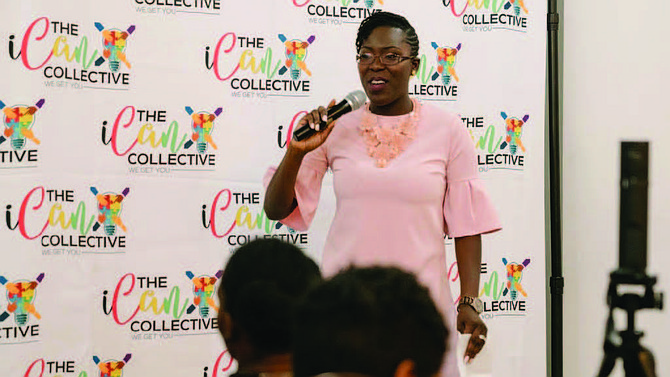 ---
Woman-Owned Minority Entrepreneurship Network Prepares To Open Event Venue
BY KATHERINE NEWMAN
The iCan Collective will soon celebrate the opening of its new event space, 2036 S. Michigan Ave., in South Loop with a Sneak Preview event on Nov. 17 from 5 p.m. to 8 p.m. During the event, attendees will get a look at the space and see different ways it can be utilized for workshops, seminars, and even weddings or birthday parties.
The iCan Collective is an organization in Chicago that works to create a business network for diverse entrepreneurs. The organization is specifically focused on connecting female and minority entrepreneurs with resources, training sessions, peers, mentors, and whatever else they need to get their businesses off the ground and stabilized for long-term success.
"The iCan Collective is the Innovation, Collaboration, and Accountability Network and it's all about getting resources and access to information for entrepreneurs from underrepresented backgrounds. Minorities and women are my focus and I am truly focused on supporting women of color through the journey of entrepreneurship and developing their own business and with the new space I want to offer event rentals for workshops, pop-up shops, and other things of that nature," said Afenya Pongo-Montgomery, founder of the iCan Collective.
The idea for opening an iCan Collective event venue is something that Pongo-Montgomery has always thought about but she didn't see it actually happening for several more years. She decided to take a leap of faith after hearing from her network of entrepreneurs, and experiencing for herself, that there wasn't a perfect space to fit their needs.
"I wasn't sure that I was ready, but as pieces started falling into place, I just thought that there was no time like the present and if I don't do it, no one else will," said Pongo-Montgomery." I saw a gap and need in the community and decided that if I needed it then somebody else probably did too and so I started putting the idea out there and got the feedback that this was something people would be interested in."
The event space will be available to rent for almost any occasion and The iCan Collective will host their own events and workshop at the venue. More than that, Pongo-Montgomery said she hopes the space can become a launchpad for the entrepreneurs that are part of the iCan Collective network.
"My goal is really to have an area where people can launch their businesses," said Pongo-Montgomery. "I want to be a hub of entrepreneurship for the person who doesn't necessarily have a big tech business or they don't have a huge store that they operating out of. This is a way that I can give some space to these black women and minority entrepreneurs who have an idea that they're building up and just need a way to bring people in so they can learn about their brand."
To learn more about The iCan Collective, visit www.theicancollective.com.
---