New entertainment complex coming to South Shore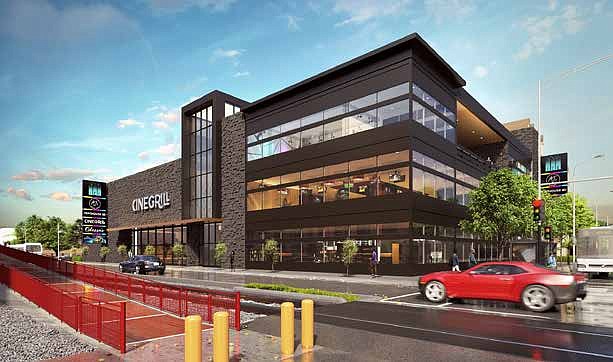 ---
New entertainment complex coming to South Shore
By Wendell Hutson, Contributing Writer
The resurrection of South Shore continues with new developments from a full-service grocery store set to open later this year to an upcoming project that will include a movie theatre.
Inner City Entertainment (ICE), which is owned by South Shore resident Alisa Starks, is developing the project. ICE previously owned movie theaters in North Lawndale, Chicago Lawn and Chatham, now renamed Studio Movie Grill-Chatham.
Located inside the former Urban Partnership Bank Building, 7054 S. Jeffrey Blvd., will be Cinegrill, a 50,000-square foot development that will house a seven-screen theatre with chef-designed cuisine, a bar, reclining seats, and seating capacity between 38 and 75; Odessa's
Kitchen, a Creole-inspired restaurant seating up to 105 people; AJ's, a four-lane bowling alley, equipped with multiple big screen TVs, a lounge that serves alcohol and appetizers, and offers table games like checkers, chess and backgammon. The last component for the development will be Penthouse 71, an events venue that can accommodate up to 225 people, and will include an outdoor patio for up to 85 people. A parking lot for the multi-entertainment center will be built at the corner of 71st Street and Bennett Avenue.
Construction is expected to begin later this year with a goal of opening June 2020, according to Starks.
"ICE is launching a new development, blending a variety of entertainment and dining targeted to sophisticated, urbane adults and leveraging a fast, growing trend of successful 'eatertainment' brands from Dave & Busters to Punch Bowl Social," explained Starks.
"This new project is part of a community effort to revitalize the 71st Street business district in South Shore." And much like the three movie
theatres ICE previously operated, Starks said this would not be a one-neighborhood project, but expects to expand it to other neighborhoods as well.
"Redevelopment of vacant bank properties in South Shore will have tremendous community impact in terms of minority job creation (minimum of 200 permanent and temporary jobs), business to business contracting and other retail development along this corridor," contends Starks.
Two movie theatres already exist near South Shore in Hyde Park and Chatham. And there is a bowling alley at the Dr. Martin L. King Center (which includes a skating rink) in Englewood and Seven Ten Lanes (which includes a pool hall, sports bar and restaurant) in Hyde Park.
But Starks said she is not worried about competition from either of these venues.
"This venue is targeted to a different audience. The King Center attracts a lot of youth and Seven Ten (located near the University of Chicago campus) attracts young adults. Whereas our target
will primarily be adults."
Last month, Alderman Leslie Hairston (5th) announced that a Shop & Save Market is set to open a 62,000-squarefoot grocery store across the street from the proposed entertainment complex inside the Jeffery Plaza, 2101 E. 71st St.
All of this comes at a time when South Shore residents have been
screaming for more development in their neighborhood.
"I can't tell you how many people walked up to me over the past few years and asked me when will I get a grocer to come to South Shore," said Hairston. "Residents want to shop in their neighborhood and not drive elsewhere."
Michael Jefferson, 64, said he grocery shops at a Jewel store in Chatham and goes to Marcus Theatres in south suburban Country Club Hills.
"I don't like the theatre in Chatham because too many young people go there and I don't care to be around them," he said. "I go grocery shopping at Jewel because I prefer a full-service store. I don't
like having to travel so much to shop but until now I had no choice."
A new 48,000-square-foot Jewel-Osco store recently opened in nearby Woodlawn at 6014 S. Cottage Grove Ave. giving South Side residents another shopping choice. However, Jefferson said while he likes shopping at Jewel, he prefers to stay in his own neighborhood and plans to stay local with his shopping.
"Soon, I will be able to buy my groceries in South Shore, catch a movie in South Shore and that's the way I like it," added Jefferson. "I just wish every black neighborhood could have their own businesses for residents to patronize like South Shore."
According to Starks, South Shore is an entertainment-driven community.
"The [entertainment] site is located less than one mile from a proposed golf course merger and restoration designed by Tiger Woods, and less than one and a half miles from the future site of the Obama Presidential Center," added Starks. "We [South Shore] just soak up all kinds of entertainment."
---