South Side Fitness Workshop Combines Exercise, Mindfulness, and Nutrition Education
6/19/2019, noon | Updated on 6/19/2019, noon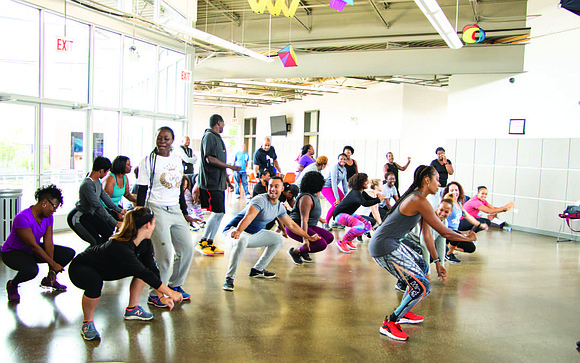 South Side Fitness Workshop Combines Exercise, Mindfulness, and Nutrition Education
BY KATHERINE NEWMAN
Bronzeville resident and health coach, Stacy Hubert, will once again hosts Trifecta on the Beach at Pier 31, 3101 S. Lake Shore Dr. from 8 a.m. to 10 a.m. on June 29. Trifecta on the Beach is a two-hour fitness workshop that combines boot camp style workouts with mindful meditation, nutrition education, and yoga on the shores of Lake Michigan.
"The Trifecta event is a one-stop shop that I created as an avenue where people can learn about healthy eating, fitness and working out, mindfulness, how to reduce stress, yoga, and breathing techniques. It's like mind, body, and soul all in one with a limited time frame of two hours," said Hubert.
Trifecta on the Beach is an ongoing summer series that will take place on June 29, July 27, and Aug. 24. Hubert said that she knows people have busy lives and can tend to not prioritize their health because of a lack of time so she has created this event to be a place where people can come to get their health and wellness questions answered and participate in exercise classes.
"All I'm asking for is two hours of your time because we know people have kids, work, and families and just don't have the time to go to a yoga studio on [one] day, the gym on another day, then go see a physician or nutrition coach the next day to get all this information. I said, why not create a space where we can get this all at one time? So we did and that's why it's called Trifecta," said Hubert.
For over 20 years Hubert has been a registered nurse and has three masters degrees in nursing, business administration, and health administration along with a certification in health coaching. During her career, she has seen a wide variety of illnesses that could have been prevented or significantly slowed by implementing exercise and nutrition education which is why she is passionate about hosting Trifecta on the Beach.
"I feel like I am an expert here because I do have the background, the training, the education, and the expertise and all that to really help people get healthy before they end up becoming a patient and I'm taking care of them on the hospital side. I see patients at the hospital and I'm like, 'wow I wish I would have caught you sooner before you even step through the doors'," said Hubert.
Trifecta on the Beach is open for everyone but Hubert is specifically targeting people who are 30 years old or older and might have some creeping health concerns that she could help them address.
To learn more about Trifecta on the Beach and to purchase tickets for $20, visit www.stacyhubert.com/new-products/trifecta-3-event.