Comcast honors civil rights activists with new exhibit
2/13/2019, noon | Updated on 2/13/2019, noon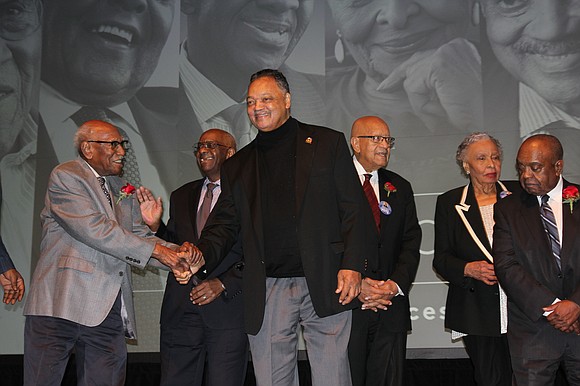 Comcast honors civil rights activists with new exhibit
By Wendell Hutson, Contributing Writer
Comcast Corporation honored six, local civil rights activists with a new exhibit recently unveiled at the DuSable Museum of African American History on Chicago's South Side.
Recognized for their efforts to fight for equality were Timuel Black, a historian; Rev. Clyde Brooks, former Chicago branch president of the Southern Christian Leadership Conference; Josie Childs, founder and president of the Harold Washington Legacy Committee; Rev. Jesse Jackson, founder and president of the Rainbow PUSH Coalition organization; James Montgomery, an attorney; and Robert Starks, an educator and political consultant.
The exhibit, "Voices of the Civil Rights Movement," is available online and features interviews from all six honorees discussing how they got involved with the civil rights movement, what contributions they made to help improve equality for blacks and the status of the black community as they see it today.
Youth will especially find the interactive, technology-based exhibit interesting because it teaches about the role local, civil rights activists played in history, said Perri Irmer, president and chief executive officer of the DuSable Museum.
"This exhibit is a permanent fixture at the museum, so it's not going anywhere. Comcast is the sponsor of this exhibit and we are thrilled to have it here," said Irmer. "One of our most popular exhibits here at DuSable is on Harold Washington, who we know was the first black mayor of Chicago."
And while the nation recognizes February as Black History Month, Irmer said every month is Black History Month.
"We designate February but every day is a day for us to celebrate our history, our people and our culture," explained Irmer. "The overriding mission of the DuSable Museum is really educating all people about our history, contributions and accomplishments."She continued, America wouldn't exists without blacks.
Montgomery said while a lot has been done to advance the black race more work is needed.
"Black people are more impoverished today than we were 50 years ago. And as long as we [blacks] remain poor, we will be powerless. At the end of day, we need to get rid of poverty if we, as a race, are going to move forward and become powerful," said Montgomery.
He added that unlike other ethnicities like Jewish, Hispanics and whites, blacks do not stick together and support one another.
"Almost every race supports their own businesses and circulate their dollars back into their community but us. For some reason we believe the white man's ice is colder because that's what they taught us during slavery," said Montgomery. "We can't even support our (black) public officials because many of us do not vote."
Speakers at the event included Alderman Roderick Sawyer (6th) and Mayor Rahm Emanuel.
"Eighteen months ago, Supt. Eddie Johnson and I were here at the DuSable Museum, and we announced that all new police recruits will come to the DuSable Museum as part of their training," said Emanuel. "For years, new recruits would (only) go to the Holocaust Museum. And it was kind of ridiculous, when you think about it, that this incredible museum in recognition of the person who actually put Chicago on the map, was not part of their training or education."
For its part, Comcast officials said the exhibit is part of an effort it started six years ago to chronicle the lives and experiences of those who fight for the equality of all people.
"Chicago has so much history and we are thrilled to have this project make it's way to Chicago. This is the city that gave birth to the Chicago chapter of the NAACP (National Association for the Advancement of Colored People) and gave us our first black president, Barack Obama," said David Cohen, senior executive vice president and chief diversity officer for Comcast Corp. "We're especially proud to make this exhibit part of the DuSable's permanent collection, celebrate Chicago's rich contributions to our nation's civil rights movement, and enrich the experience of museum visitors."
Comcast will sponsor a free screening of a new documentary, "Hope & Fury: MLK, The Movement and The Media," at 6 p.m. on Thursday, Feb. 21 at DuSable Museum, 740 E. 56th Pl.