SUBURBAN BLUES GROUP TO REPRESENT CHICAGO YOUTH AT INTERNATIONAL BLUES CHALLENGE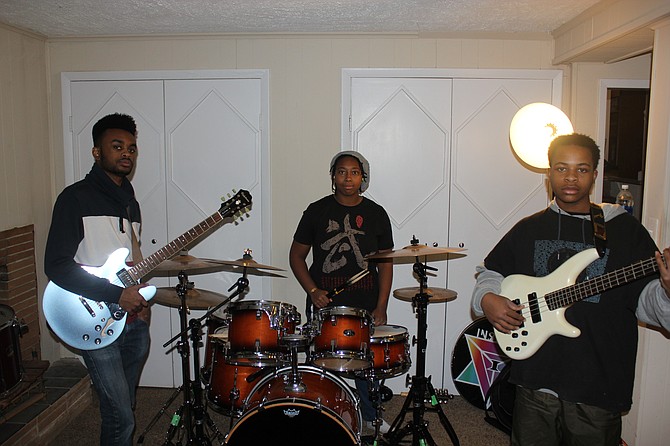 ---
Suburban Blues Group to Represent Chicago Youth at International Blues Challenge
BY WENDELL HUTSON, Contributing Writer
Three south suburban youth, who call themselves MudCity Blue, will attend the 2020 International Blues Challenge in Memphis next month as the only Chicago-area youth blues group.
The trio, Kendall Carter, Stacy Norris and Peyton McDowell, met while students at Homewood-Flossmoor High School (HF) where their passion for blues music enriched. Carter is the group's guitarist and vocalist; McDowell is on bass and Norris is on drums.
The group was chosen by the Windy City Blues Society to attend the five-day event from Jan. 28 to Feb. 1 along with 230 other blues bands and solo artists. The purpose of the event, according to organizers, is to conduct an international search for blues bands and solo acts looking to perform internationally and to be discovered.
The Windy City Blues Society (WCBS) sponsored the Chicago Blues Challenge this year and MudCity Blue won the youth competition, which led to them being chosen by WCBS as youth ambassadors for the international event.
"We all went to Homewood-Flossmoor High School, but we really didn't bond as friends until after we attended a summer blues camp together," recalled Carter, a 20-year-old sophomore at Illinois State University and Flossmoor resident. "That's where we learned about blues and played at several venues. And since 2018, we have been together as a group."
The group originally was called Chi-Town Blues, but the trio changed it "because we didn't really like that name, so we came up with MudCity Blue and it just stuck with us," said Norris, a 17-year-old junior at HF High School and a Glenwood resident.
Most listeners of blues are usually older (age 40 and up), contends McDowell, who added it's rare to find youth who not only listen to blues but perform blues music too.
But for McDowell, a 17-year-old senior at HF high school and a Homewood resident, he developed a love for blues music from his grandmother, who listens to blues all the time.
"My grandmother introduced me to blues music when I was seven years-old. She would always play blues music when we were in the car so I heard it a lot growing up," said Peyton. "She also paid for my first bass lessons and told me she wanted me to learn blues music because she thought it would be good for me. And she was right."
Norris said she too grew up in a household where her dad listened to 'ole school' music and that led her to adopt blues as her choice of music.
However, Carter grew up listening to a lot of Christian music at church where his grandfather is a deacon and his father was once the church's song leader.
"I was raised in the church, so all I ever heard growing up was church music, which I still love listening too. But once I started taking guitar lessons, I started listening to blues music more," said Carter, who is studying computer science in college. "Blues is something that they teach you when you are learning the guitar. And once I looked into blues music, I fell in love with it and never stopped playing."
He added that he felt pressured to sing Christian music since he grew up in the church.
"Ever since I was little, music has been in my face constantly and for that reason, I didn't really sing as much in the church, at least not as much as my dad and grandfather would have wanted me to do," explained Carter. "These guys were leaders in the church so expectations were high for me to sing."
His father, Antony Carter, said while he would love for his son to sing more at church, he is proud of him and will continue to support his dreams. In fact, he said he plans to travel to Memphis next month with the group to show his support.
"I was super busy pursuing my music career when younger and ever since he was a little guy, he has watched me perform. But I am far from disappointed in his choice of music," said Antony Carter. "Unlike my girls, who were natural singers in the church, he (Kendall) didn't really get that desire to sing until later on, and I couldn't be more proud of him as I am with all my children."
As far as blues singers, McDowell said he likes B.B. King (born Riley B. King) and Jimmy Reed (born Mathis James Reed); Norris likes Muddy Waters and Stevie Ray Vaughn and Carter likes B.B. King and Eric Gales. The group has performed at several Chicago venues including the Chicago Blues Fest, Jazzin' and Jammin in Bronzeville, the House of Blues and the Hard Rock Café.
---