CRIME APP DEVELOPED TO PROTECT AND SERVE CHATHAM COMMUNITY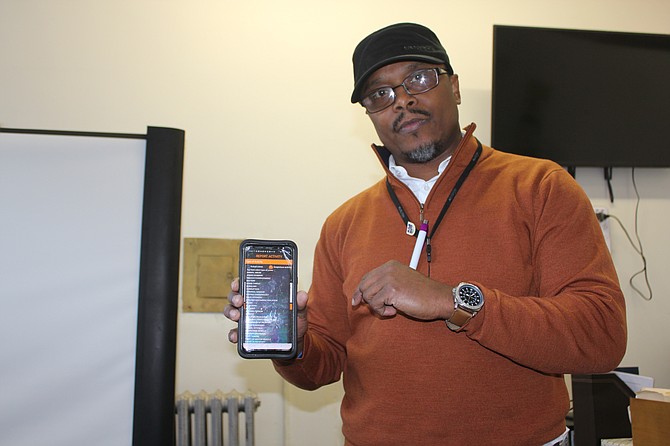 ---
Crime App Developed to Protect and Serve Chatham Community
A South Side pastor and retired Chicago police officer has developed a free crime app to protect and serve his fellow Chatham residents.
What the Crime Agitator app does is open up a window of communications and is an extension to the 911 system, contends Richard Wooten, who launched the app (for Androids and iPhones) in October after working on it for two years. It can also be downloaded online at crimeagitatorapp.com.
For Wooten, a longtime Chatham resident and now president of the nonprofit Greater Chatham Alliance, his patience has run out waiting on the city of Chicago to reform its 911 center. He said the community shouldn't have to wait any longer.
"Since the late 1960s, the 911 system has been implemented but here we are in 2019 where infrastructure still has not changed," explained Wooten, who retired in 2015 after working 23 years as a police officer. "It is now crippled, dysfunctional and does not meet today's needs."
He added that if something like crime happens on 75th Street (South Side), residents living on 95th Street should know about it right away.
"Just a couple of days ago or a week ago or so, we heard about the person I believe was having a seizure and a 911 operator couldn't figure out where this person was," said Wooten, 54. "But now there's technology that pinpoints through GPS (Global Positioning System) where things are going to be at. We don't have the luxury of waiting on 911 to get its act together for us to actually call for help."
However, city officials deny that their emergency operations are outdated, and pointed to several upgrades made to the 911 center.
"The assertion that Chicago's 9-1-1 hasn't been updated is untrue. In 2012, the OEMC (Office of Emergency Management & Communications) refurbished the entire 911 floor, including not only the flooring and furniture, but also critical components like the radio and 911 call handling systems," Melissa Stratton, a spokeswoman for the OEMC, told the Citizen. "Those 2 systems are also now undergoing hardware refreshes. The Computer Aided Dispatch system was implemented in 1995 and has been consistently updated since installation to meet the city of Chicago's changing needs."
But Wooten contends the protocol for handling 911 calls also needs to change. Routinely, he said a call consists of a call taker receiving a call, who would then, ask the caller a "thousand and one questions" before transferring the call over to a dispatcher, who would then prioritize the call before sending it out to a first responder.
"Often times, family and friends are the last ones to know that you need help and help could be right down the street from you or around the corner, but we have gotten so accustomed to the 911 system that
we were educated on (and meanwhile) people are dying out here," said Wooten, who is also pastor of Gathering Points Universal Ministries at 9050 S. Ashland Ave.
Stratton added that the city created its own safety app in 2018, which allowsusers to create a profile, which would eliminate 911 operators from asking a lot of questions. "OEMC launched Smart911
(Smart911.com) in September 2018 as part of the city's effort to strengthen the accurate, timely and effective dispatch of emergency resources in crisis situations," explained Stratton.
"Smart911 is a free, voluntary online platform/smart phone app that allows users to enter important medical and household information to help plan ahead for an emergency situation. This information will automatically display for dispatchers when the user dials 911."
Still, Wooten said his app is more user friendly, and pointed out some of its unique features. For example, the app allows a user unable to call for help to simply shake their phone, which alerts the app to call 911. It will also send up to five emergency contacts a text with the caller's face and GPS location.
The app is free to users but will soon offer some premium features, such as 24/7 real time tracking, for a $1.99 monthly fee. And as a businessman, who owns Statewide Security and Safety Group, 8012 S. Ashland Ave., Wooten said he plans to allow other security companies to use the crime app technology for a fee.
"(People should know) downloading this app doesn't actually prevent you from making your 911 calls," added Wooten, whose wife is also a retired Chicago police officer. "What the crime agitator app does is increase the power of your 911 call and is a personal tool for your safety.
---