COMCAST ANNOUNCES EXPANSION OF INTERNET ESSENTIALS PROGRAM AND PUBLIC LIBRARY INVESTMENT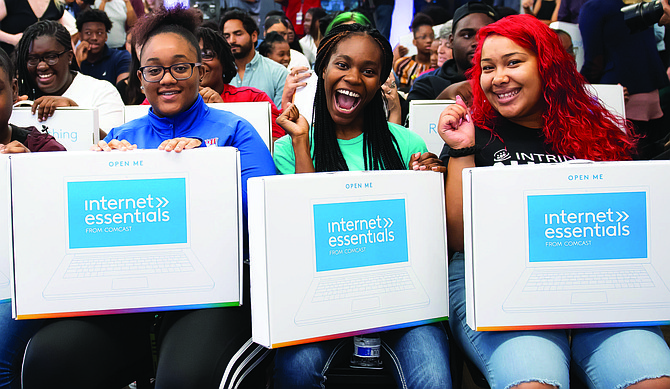 ---
COMCAST ANNOUNCES EXPANSION OF INTERNET ESSENTIALS PROGRAM AND PUBLIC LIBRARY INVESTMENT
BY KATHERINE NEWMAN
An American telecommunications conglomerate, ComCast, recently announced that it would be expanding eligibility for its Internet Essentials program which offers discounted internet-access to qualifying low-income households across the nation and specifically in Chicago.
In addition to expanding Internet Essentials, ComCast also announced it would be investing in Chicago Public Libraries to support the development of Experience Labs at several branch locations.
"If you think about how we now operate as a community, as a society, and ultimately how we interact with one another, if you don't have access to the internet, then you're missing out on economic opportunity. Additionally, our educational system is completely aligned toward either online learning or using digital resources to access report cards and do research," said Matthew Summy, regional vice president of external affairs for ComCast.
With this in mind, ComCast launched the Internet Essentials program eight years ago to provide high-speed internet access at a low cost for qualifying households.
Most recently, the program has been expanded to offer assistance to those who are already participating in federal assistance programs such as, Medicaid, public housing assistance, the Supplemental Nutrition Assistance Program (SNAP), Temporary Assistance for Needy Families (TANF), Supplemental Security Income (SSI), the National School Lunch Program, the Low Income Home Energy Assistance Program (LIHEAP), the Women, Infants, and Children (WIC) program, Illinois residents receiving Federal Pell Grants, anyone receiving a Veterans Affairs pension, and anyone receiving Tribal assistance.
"What we want, ultimately, is for as many people as possible to have the opportunity to have high-speed internet access at home so they can effectively participate in economic, educational, and other opportunities that come with that service," said Summy. "Internet Essentials is highly unique in that it's a comprehensive approach to take away, or remove, those barriers by offering affordable internet services and subsidized computers."
In addition to announcing the expansion of Internet Essentials to allow even more households to qualify for the program, ComCast also announced it would be investing in Chicago Public Libraries. The financial donation from ComCast will support the creation of eight new Experience Labs at branch libraries in Chicago, according to Summy.
"We are supporting community based digital literacy and skills-based training programs to help get individuals to be not only comfortable with the technological tool that is the internet, but also to get the most out of it once they understand the fundamentals and make it part of their lives for banking, accessing public services, advancing in education, or searching for a job," said Summy.
ComCast has already funded Experience Labs in three Chicago Public Libraries and while each differs slightly based on the needs of the branch they all have similar equipment that can range from computers to 3D printers, according to Summy.
"These resources will help the Chicago Public Library expand the availability and capacity of their programs and ultimately teach digital skills," said Summy.
To learn more about the Internet Essentials Program, visit www.internetessentials.com.
---