Building Bridges Arts Now Offers Creative Workshops At Gary Comer Youth Center
4/3/2019, noon | Updated on 4/3/2019, noon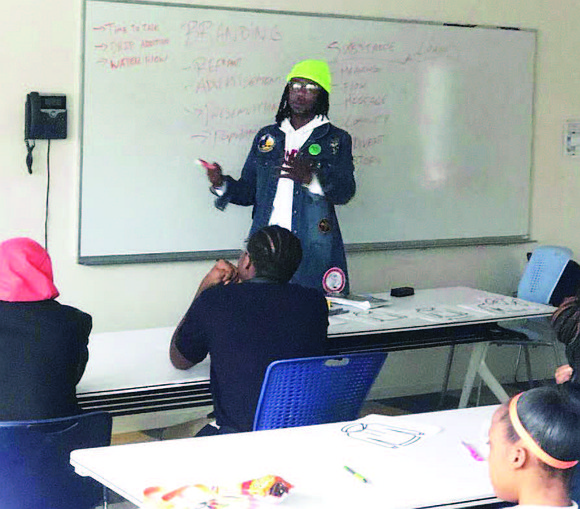 Building Bridges Arts Now Offers Creative Workshops At Gary Comer Youth Center
BY KATHERINE NEWMAN
Building Bridges Arts is a non-profit organization based in Chatham that focuses on allowing teenagers to explore their artistic and creative passions. Recently, Building Bridges Arts began hosting workshops at the Gary Comer Youth Center, 7200 S. Ingleside Ave. The workshops allow young people to explore podcast production and clothing design.
"Building Bridges Arts is a nonprofit organization and our mission is to educate, create, and inspire creative entrepreneurship. We work with inner-city youth ages 13 to 19 and our purpose is to let our youth know that they can turn their passion into a career and make money from it," said Nicole Bridges, founder of Building Bridges Arts. "I always say that we are already born rich, everyone has a gift and talent, and we are supposed to use that gift and talent to make money and be prosperous."
Currently, Building Bridges is hosting two workshops at the Gary Comer Youth Center. One is the Teen Podcasting Bootcamp where students learn how to record, edit and promote a podcast. The other workshop is Fashionably Unapologetic which is a fashion workshop that is about finding confidence in your personal style.
"This year, I'm at the Gary Comer Youth Center so I'm excited because I didn't have a home for my program until now," said Bridges. "I'm excited to finally be at the Gary Comer Center because now I don't have to do a lot of marketing and they already have over 900 students here."
When Bridges found out that her programming was going to be made available at the Gary Comer Youth Center, she immediately went to talk to the students to see what kind of workshops they would want to see.
"I went up there and talked to the youth and just asked them what they would be interested in and they chose fashion and podcasting.
Sometimes, I'll do surveys, go into groups on Facebook to talk to parents, or go to schools and ask students what they are interested in. Most will say fashion, photography, film, or radio and that's how I come up with my workshops that I'll teach," said Bridges.
The Building Bridges Arts summer programming will begin in July and in addition to the podcasting and fashion workshops, Bridges will add a film workshop for students.
"The summer programs start July 4th at the Gary Comer Youth Center and we are going to be doing podcasting, fashion, and film. For the film workshop, we are going to do a teen web series kind of like Teen Summit from back in the day on BET," said Bridges.
Like all of the programming at the Gary Comer Youth Center, the Building Bridges Arts workshops are free for members and there is a small fee for non-members.
To connect with Building Bridges Arts and to learn more about their programs e-mail buildingbridgesarts@gmail.com.