National Organization Gifts Mortgage-Free Home To South Suburban Veteran
10/31/2018, noon | Updated on 10/31/2018, noon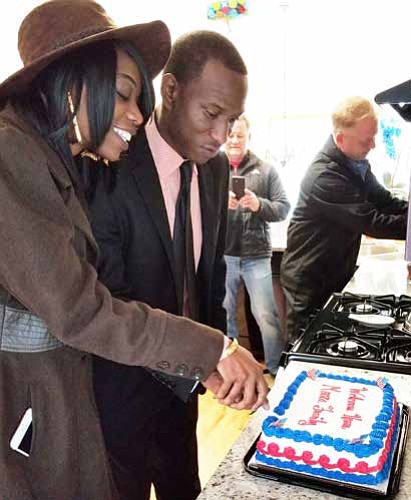 National Organization Gifts Mortgage-Free Home To South Suburban Veteran
BY KATHERINE NEWMAN
A Welcome Home ceremony was recently hosted for Army Specialist Marcus Moore who is the recipient of a customized mortgage-free home in Steger, IL thanks to Building Homes for Heroes. The home was specifically designed for Moore who suffered an injury while serving overseas that led to permanent damage in his ankle.
Building Homes for Heroes is a national organization that supports the needs of severely wounded or disabled soldiers in the United States Armed Forces. The organization strives to build or renovate quality homes and gift mortgage-free homes to severely injured veterans nationwide, according to a press
release announcing the Welcome Home ceremony.
"Building Homes for Heroes began in 2006 and our founder was actually at ground zero during the 9/11 attacks. There was a big surge of enlistment immediately following that and a lot of what he noticed was that as our veterans were coming back, they were thankfully being welcomed with open arms but there was not much more than that happening," said Daniel Del Fava, Building Homes for Heroes project manager on the Steger home.
Building Homes for Heroes designs homes for veterans based on the nature and severity of their injury along with how it impacts their day to day life. Whether the gifted home is a brand new building or a customized renovation, all of the homes that are awarded to veterans are mortgage-free.
One of the ways that Moore's new home was customized to better accommodate his needs is through the installation of a state-of-the-art YORK heating and cooling system that was donated by Johnson Controls.
Moore's ankle injury sometimes limits his mobility and with this new Wi-Fi-equipped heating and cooling system, he will be able to control the temperature of his home from anywhere in the house.
Building Homes for Heroes currently has homes in 30 different States across the country, according to Del Fava. Many of their renovated homes, like Moore's home in Steger, have been donated to the organization by JP Morgan Chase Bank.
"We have a wonderful partnership with JP Morgan Chase Bank. They are donating 1,000 free homes to veteran assistance organizations and we are one of those organizations that they selected," said Del Fava.
To be considered for a renovated mortgage-free home from Building Homes for Heroes, interested veterans must first submit an online application.
"There are three main criteria that we look for, the applicant cannot own a home or land, they would have been honorably discharged, and they would
have been injured after Sept. 11, 2001. Those are the first three criteria that allow them to apply for our program and in the application, they select the homes in our inventory that they would be interested in," said Del Fava.
To learn more about Building Homes for Heroes and to view their current inventory of homes visit, www.buildinghomesforheroes.org.