Dance Concert, entitled 'Hatch,' to take place this fall
10/24/2018, noon | Updated on 10/24/2018, noon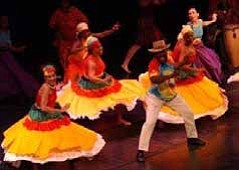 Dance Concert, entitled 'Hatch,' to take place this fall
The West Indian Dance Theater Company will celebrate its 40th year Anniversary since arriving in Chicago. The celebration will consist of a weekend of performances including a special benefit night. This takes place October 19 at 7:00 pm, Oct. 20 at 7:00 pm and Oct. 21 at 4 pm at the DuSable Museum of African American
History at 740 E. 56th Place, Chicago, IL..
The exclusive ruby red benefit night will take place on Saturday evening following the concert. This night will usher in a variety of entertainment by guest artists including international reggae artist, Charles Cameron, and Chicago's highly acclaimed tap dancer and son of the late great Jimmy Payne, Sr., Jimmy Payne Jr. The company also announces its first official youth ensemble. They will perform Afro-Caribbean and contemporary styles.
In 1978, Mr. Baker, then 35, brought a company of trained dancers and musicians to the states to share the culture of the West Indies. His company has performed in many Chicago and surrounding area festivals and events such as the Taste of Chicago, the Caribbean Festival of Life, the African Festival of the Arts, Windy City
Carnival, the Milwaukee Summerfest, the Skokie Festival of Cultures,the Evanston Arts and Crafts Fair and the City of Chicago's Thanksgiving Parade. The company has been the entertainment and cultural bearer for many West Indian Communities in Chicago.
The company has been housed on the South and West sides of Chicago in several dance studios and community centers including the the studio of the infamous, Jimmy Payne, Sr who, also of West Indian
descent, welcomed Mr. Baker to Chicago with open arms back in the late seventies; and Chicago Park District's Washington and Columbus Park, They are currently housed at Columbus Park in the Austin neighborhood.
General admission for the performances on
Friday, October 19th and Sunday, Oct. 21 are $25 with a $15 discounted price for children under 12 and senior citizens. The benefit night, on Saturday, October 20th is priced at $40 and includes a light reception, door prizes, and exclusive musical entertainment.
Tickets can be purchased at https:/hatchbrownpapertickets. com or by calling 773- 287-7641.