South Suburban High School Students Unveil New Mural
3/21/2018, noon | Updated on 3/21/2018, noon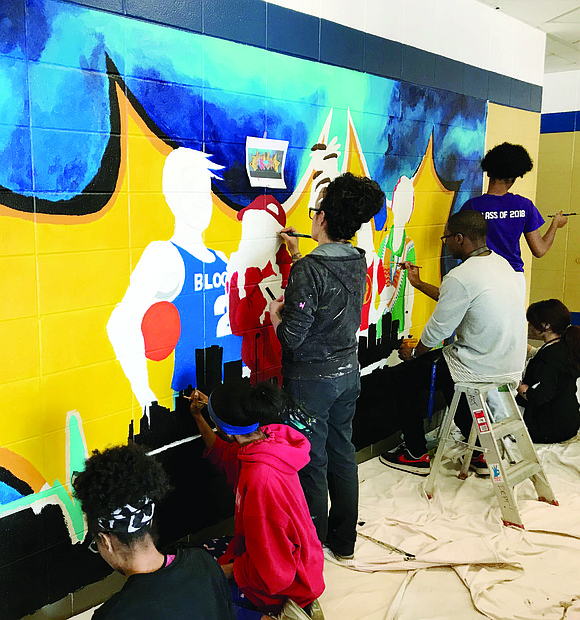 South Suburban High School Students Unveil New Mural
BY KATHERINE NEWMAN
Students at Bloom Trail High School recently unveiled their new mural inside the school. The mural was a collaborative effort between Chicago artist, Sam Kirk, Tiffany Insalaco, art teacher at Bloom Trail High School, and the AP studio art and drawing and painting students at Bloom Trail High School.
The high school has a long history of creating murals inside the building, this years mural theme is Growth Mindset and was suggested by the principal, according to Insalaco.
"My principal is very supportive of the arts and she basically pays for the endeavor to produce the mural. She gave us the idea, the topic Growth Mindset was her request. This mural is about the ability to achieve and overcome despite downfalls or differences," said Insalaco.
In the beginning, students were given the prompt of Growth Mindest, they watched a few Ted Talks about what that meant and then they were asked to create a piece of art that they thought represented Growth Mindset, according to Insalaco.
"Every student made their own independent artwork based on the topic. I shared their art with Sam and she came up with a sketch where she took their ideas and combined it into sort of one idea," said Insalaco.
The students reviewed Kirk's original sketch and gave feedback. They explained what their drawings meant and what they wanted to see in the mural, Kirk went back to the drawing board and produced a final design for the mural based on the student's feedback, according to Insalaco.
"My favorite part of working on this project was actually coming up with the idea of it. Us coming together and formulating how the mural should look and what colors and how things should go, I really enjoyed that," said ShaQira Smith, senior at Bloom Trail High School.
Students from Insalaco's Drawing and Painting and AP Studio Art classes had the opportunity to paint the mural, they were chosen based on their interest in painting and on their painting skills.
"At first I didn't think that I was going to get selected to be part of the painting process but when I did I was surprised and I had a lot of fun doing it. I feel like future generations that come in after me will see it and they will be inspired by it," said Caitlyn Nardi, junior at Bloom Trail High School.
The mural is at the entrance of the building, so Insalaco lead the students to think about what other students would want to see and what would inspire them. For many students, this is their first time working on a project of this scale.
"Being in high school, it's hard to grasp how professional artists work sometimes. Being able to work with high-quality materials and with a big group on such a big scale was something I've never done before and it was definitely the most impressive thing I've done so far," said Dominique Epps, senior at Bloom Trail High School.