ART INSTALLATION IN BROWN MEMORIAL PARK HONORS FIRST RESPONDERS
6/6/2018, noon | Updated on 6/6/2018, noon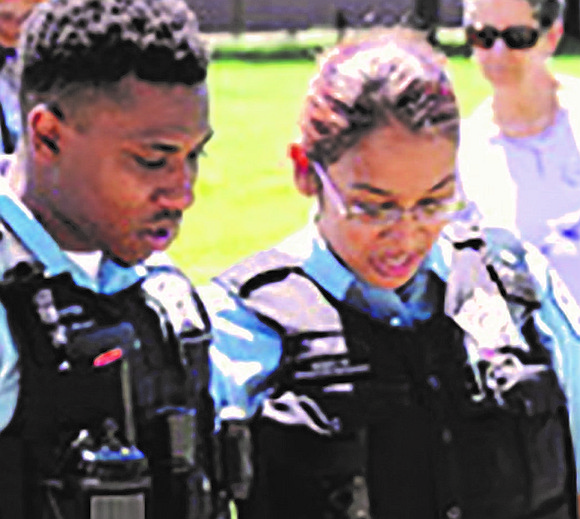 Art Installation in Brown Memorial Park Honors First Responders
BY KATHERINE NEWMAN
A temporary art installation, We Honor You, was recently on display in Brown Memorial Park to honor 200 first responders who live or serve in the Greater Chatham community. We Honor You was a collaborative effort between the Greater Chatham Initiative (GCI), the Greater Chatham Alliance, and the Brown Memorial Park Advisory Board.
"We did an installation to honor the first responders and it really grew out of the fact that my father was a police officer and he was killed in the line of duty. I just thought it would be great to celebrate the first responders who live and serve in the community. The whole purpose was to acknowledge them, honor them, and appreciate them for their service," said Nedra Sims Fears, executive director of GCI.
To prepare for the installation, 200 first responders from the community, past and present, were selected and 200 signs were made. The front of the signs said "We Honor You" along with a police, fire, and paramedic shield. The back of each sign gave the name of a first responder from the Greater Chatham community.
"The visual part of the installation really struck me as wonderful. When you stood back, it reminded me almost of a memorial in Washington D.C. because it was laid out so well. It was a wonderful event to show the firefighters and the other responders how we felt as a community to honor them," said Ora Jackson, member of the Brown Memorial Park Advisory Board.
Brown Memorial Park is named after Sidney Brown who was a firefighter for Engine Company 75 on the south side of Chicago. Brown died on August 9, 1983, when he rushed into a burning house. Brown was the first African American firefighter to die in the line of duty in Chicago, according to the Chicago Park District.
"I thought that it was a great way to kick off summer in this beautiful park. I grew up playing over there and to see how the community is coming together to improve the community and including first responders in that I thought was very significant," said Ghian Foreman, president of the Chicago Police Board.
During the installation, Sixth Ward Alderman Roderick Sawyer, came to show his support for the community and first responders.
"I wanted to show support for all of our first responder, police, firefighters, and paramedics who take care of us when times are severe and when we are running away from danger, they are running into the fray and helping us on a really personal level," said Sawyer. "It is extremely important for us to continue to show support and love for those that continue to work for us on an emergency basis."
While organizing the art installation, Fears found that there are about 1600 first responders that serve the Greater Chatham area and hopes to be able to honor all of them next year.