Bronzeville Church Receives Adopt-a-Landmark Grant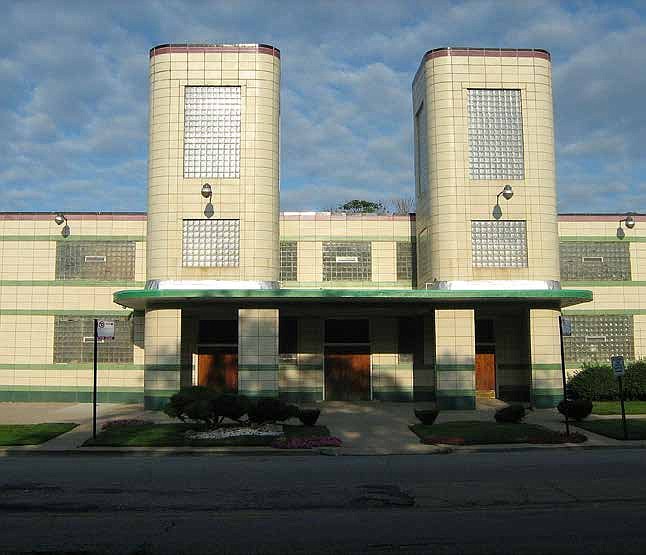 ---
Bronzeville Church Receives Adopt-a-Landmark Grant
By: Katherine Newman
The First Church of Deliverance in Bronzeville was awarded a grant from Chicago's Adopt-a- Landmark fund to complete exterior and interior renovations on the unique building. The $228,000 grant will be used to restore the church's terra cotta
facade and interior murals and doors, according to the Chicago Department of Planning and Development (DPD).
"We applied to the City of Chicago landmark commission for the Adopt-a-Landmark grant and it's the first one that was awarded outside of the downtown area, that's my understanding," said the Rev. James R. Bryson, Jr., Pastor of First Church of
Deliverance.
The building was designed by Walter T. Bailey in 1939 and was named a Chicago landmark in 1994.
The exterior of the Streamline Moderne style building is covered in terra cotta tiles and the inside is known for its vibrant colors and soft curves.
"The building itself is certainly a charm of Chicago and of course this particular project was very special because it was the last major project that Walter T. Bailey did before he passed away in 1941," said Bryson.
The inside murals were painted by Fred Jones, an African American artist who migrated to Chicago from Atlanta in 1940 to attend the Art Institute.
In 1946, Jones was commissioned to paint two murals for the First Church of Deliverance, one behind the altar and one in the foyer, according to the International Review of African American Art. Money from the grant will be used to renovate and restore the historic murals.
Also added in 1946 were the two towers seen on the front of the building. This work was done by a different architectural firm. The towers are "as much a part of the church as anything else is because of their uniqueness," according to Bryson The Citywide Adopt-a-Landmark Fund allocates funding generated by downtown construction projects to support the restoration of buildings that have been individually designated as a Chicago Landmark, or a contributing building in a designated landmark district, according to the Chicago DPD.
"We were happy to be informed that we did get the grant," said Bryson. "We had planned expensive renovations for the building and were seeking funding and the grant came in quite handy for us."
The First Church of Deliverance is located at 4301 S. Wabash Ave. For information about the church, visit www.firstchurhcofdeliverance.org.
---