Black Panther Party leader Fred Hampton remembered on his anniversary death
12/7/2018, 3:54 p.m. | Updated on 12/7/2018, 3:54 p.m.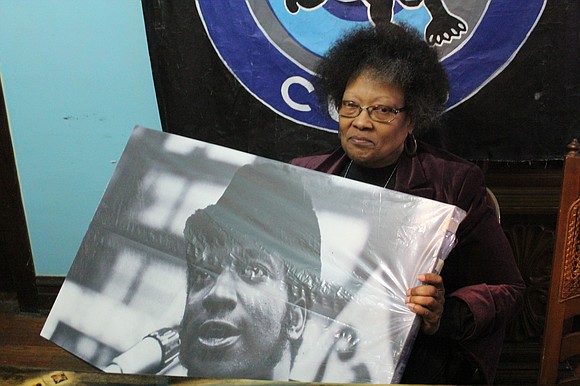 Black Panther Party leader Fred Hampton remembered on his anniversary death
By Wendell Hutson
Contributing Writer
The 49th anniversary death of Black Panther Party Chairman Fred Hampton Sr. was recently recognized by more than 100 people including his son Fred Hampton Jr. and widow Akua Njeri at the West Side home where he was shot dead by Chicago police.
The annual public memorial at the two-story building now owned by the Chicago Housing Authority included speakers and a re-enactment by Njeri of the day Hampton Sr. was killed. Tenants occupy the building's second floor while the first floor, where Hampton Sr. died, is boarded up.
Hampton Jr. opened the memorial by asking participants for a moment of silence and to clench their fist and raise their arm in the air for five minutes. He ended the moment of silence by screaming out 'Black Power.'
Njeri (formerly Deborah Johnson) was with Hampton Sr. at their home at 2337 W. Monroe St. on Dec. 4, 1969 when he was killed by police. "I remember it like it was yesterday. The police knocked on the door (around 4:35 a.m.) and Defense Captain Mark Clark (who headed up the Black Panther's Peoria chapter) answered the door by saying, 'Who is it?' The police said, 'Tommy." And Mark responded, 'Tommy who?' Then the police responded back, 'Tommy gun.' After that, the police kicked in the front door and started shooting. And Mark was killed instantly," recalled Njeri, 68. "There was no gun fight as the police would have you to believe. Mark was carrying a shot gun at the time so when he got shot, his gun went off once and that was the only shot fired from our side."
She added that even after killing Clark, the police entered the home and came into the bedroom where Hampton and Njeri remained.
"I was nine months pregnant and one of the officers shouted, 'he's in here with his girl and she's pregnant.' They took me out of the room in handcuffs and into the kitchen, and then I heard several shots fired from the bedroom," said Njeri. "I then heard a cop say, 'he's good and dead now.' And that was how my husband violently died at age 21. Those 'pigs' stood over him and shot him. That's why I say he was assassinated by the police."
Njeri was not injured during the shooting but was charged with attempted murder and aggravated assault, two felony charges that were later dismissed in court.
Chicago police officials dispute Njeri's account of what happened the morning of Dec. 4, 1969, and insist both men died in a gun battle with police.
Every year, since his death, Njeri has celebrated his life with a public memorial service at the home she shared with him. It was 25 days after his death that his son, Hampton Jr. (born Alfred Johnson), was born and today, he is the founder and chairman of the Prisoners of Conscience Committee and the Black Panther Party Cubs organizations. Hampton Jr. founded the PCC during the 1990s while serving time in an Illinois prison for arson. He insisted the PCC is not a prison activist organization, but a revolutionary organization.
"We want to know how can we help serve our people and how can we help make their lives better. That's what the PCC and BPPC is all about," said Hampton Jr., 48. "The Black Panther Party is still needed today. That's why I started the BPPC."
In October 1966, Bobby Seale and Huey Newton formed the Black Panther Party in Oakland, Calif. Initially Seale and Newton said they started the group to protect local communities from police brutality and racism, but it later became a revolutionary group, which sponsored free medical clinics and breakfast programs for needy children. Black Panther Party alumni include U.S. Rep. Bobby Rush (D-IL), who did not attend the memorial.
Hampton Sr. founded the Chicago chapter of the Black Panther Party in November 1968. He was born Aug. 30, 1948, in Chicago and grew up in west suburban Maywood and graduated from Proviso East High School in 1966.
One goal Hampton Jr. said he is aiming for is to save the childhood home of his father at 804 S. 17th St. in west suburban Maywood. The home is in foreclosure and according to Hampton Jr. about $80,000 is needed to keep the two-story, brick apartment building from being sold.
"We've raised about $11,000 to this date and I am confident we will get enough help to save the building and turn it into a Black Panther Party Museum," contends Hampton Jr. "People from all walks of life have stopped by the house to donate what they could to help. One woman caught the bus from the South Side to drop off a $20 donation."
Two online websites, gofundme.com/officialsavethehamptonhouse, and savethehamptonhouse.org/contribute, have been set up to collect donations.
Hampton's parents, Iberia and Francis, bought the two-story apartment building in 1958. And in 2016, the home was passed on to Hampton's brother, William Hampton, after their mother passed away, and then to Hampton Jr. when his uncle died in February.
"This is another challenge for the Black Panther Party but like every challenge we have faced during our time, we will prevail," said Hampton Jr.
Reflecting back on his life, Njeri added that Hampton Sr. had a good sense of humor but "could not dance." She described the community activist as a "brilliant man who dedicated his life to helping 'our' people. He was my role model, my hero and my best friend," she said.