Spring Essentials From the Stylist
3/22/2017, noon | Updated on 3/22/2017, noon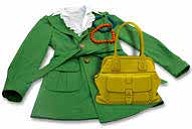 Spring Essentials From the Stylist
It's time to peel off those itchy wool sweaters, ladies, and jump
into spring style with the ultimate guide to this year's essentials from Celebrity Stylist Mark-Alan Harmon and the frugal fashionista shopping haven, Prime Outlets.
According to Harmon, style sense to Hollywood elite, bringing great style into your wardrobe can be as simple as adding a few key pieces each season.
"Dressing well can be easy and affordable; you just need to know what to look for and how to bring it into your wardrobe," explains Harmon.
Another key factor, he notes, is knowing where to go to get the
look, citing the outlets as the place to experiment with trends and get direct access to some of the world's most fashionable, trend defining clothing.
Known as the destination for value minded fashionistas, Prime Outlets features a compelling collection of designer and name brand retailers offering everyday savings of 25 to 65 percent off full retail prices, including
style icons kate spade, Coach Factory and Salvatore Ferragamo.
Prime Outlets suggests the following spring essentials from the stylist to help create a look straight off the runway:
Be Bold with Color -; Trade in all that black - this spring is all about bright colors! Add a splash of color to any outfit with a violet blazer, a pair of blue flats or a yellow clutch.
Boy Meets Girl -; Add vests, V-neck sweaters and high-waisted trousers to your closet this spring as menswear makes its way into women's fashions. This season is all about the fitted, tailored, menswear-inspired look.
Sheer Indulgence -; Layer translucent fabrics over camisoles or under jackets to capture a soft, feminine look. Follow the trend with blouses and dresses layered with luminous, pale-colored materials and add iridescent
accessories.
Best Dressed -; The absolute spring trend is the return of the dress. Look for the classic, sleeveless shift, stylish frocks with ruffled accents, flowing floral prints and pronounced patterns, along with the essential, button-down shirt dress.
In the Trenches -; Stay cozy, yet chic, on cool days with the must-have item of the season
a trendy trench coat. Whether yellow, green or blue, a colored trench coat is a crucial element in every fashionista's wardrobe and a great way to
make a bold entrance.
For more information about Prime Outlets locations and directories of designer and name brand stores throughout the United States, please visit www.primeretail.com. (NewsUSA)