West Chatham Park Set To Receive Multi-Purpose Facility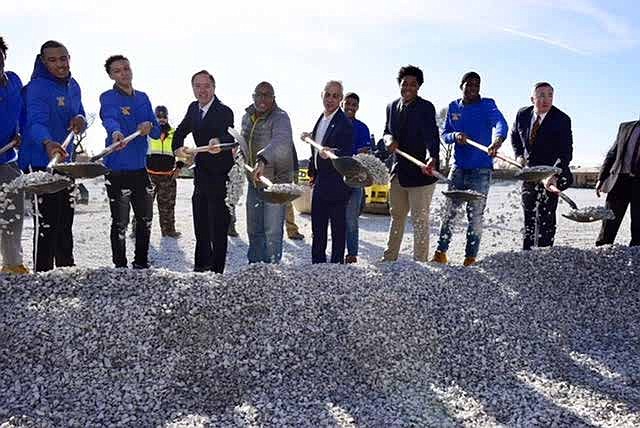 ---
West Chatham Park Set To Receive Multi-Purpose Facility
By Christopher Shuttlesworth
Mayor Rahm Emanuel, Chicago Park District Superintendent Michael P. Kelly, Chicago Public Schools Chief Executive Officer Forrest Claypool and Alderman Howard Brookins Jr. recently held a press conference and broke ground on a new regulation artificial turf football, soccer field and a baseball diamond in West Chatham Park.
The Park District and Chicago Public Schools (CPS) have collaborated for more than five decades to offer a multi-purpose facility, which will be used by Simeon Career Academy High School
students and will also serve for more Park District summer sports camp opportunities, according to a Mayor Rahm Emanuel press release.
"Simeon is already an established academic and athletic institution, and both the school and community deserve to be complemented with investments in their athletic programs," Mayor Emanuel said in a recent press release.
"Both the students and West Chatham Park residents will have brand new athletic fields to stay safe, to stay engaged and to stay on
track to a brighter future."
According to the National Recreation and Park Association, 64% of parents agree that it is important for young people to have places – inside and outside of school – where students can participate in physical activities.
"I think it is a great addition to the park and to Simeon," Alderman Howard Brookins said. "Simeon has been a Southside powerhouse in sports and has made us proud as South siders with winning multiple championships and producing quality young men and women in the athletic department."
In addition, the West Chatham Park athletic facility, located at 8223 S. Princeton Avenue, will include a new scoreboard; additional sports
and site lighting and landscaping. The multipurpose facility will be
funded $3 million by CPS and completed in August 2018.
Michael Kelly General Superintendent and CEO of the Chicago Park District said the West Chatham Park athletic facility project is just one example of Mayor Emanuel's Building on Burnham initiative designed
to improve parks and neighborhoods throughout the city.
"There is so much going on in Chatham, including new retail and all of the new home construction, thanks to the hard work of the Mayor and Alderman Howard Brookins," Kelly said.
For more information, please visit https://www. cityofchicago.org/city/en/depts/mayor/press_room/press_
releases/2017/november/AthleticFacilitiesWestChathamPark.
html.
---