Wizkid, Taylor Bennett and Heatwave join Wyclef Jean for 2017 African Festival of the Arts this Labor Day
Tickets now available for September 1-4 celebration of African arts and culture
8/16/2017, noon | Updated on 8/16/2017, noon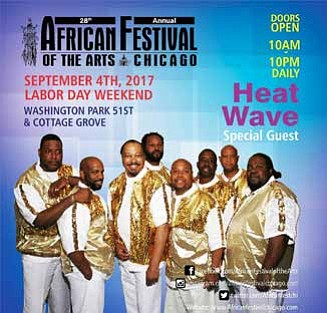 Wizkid, Taylor Bennett and Heatwave join Wyclef Jean for 2017 African Festival of the Arts this Labor Day Tickets now available for September 1-4 celebration of African arts and culture
(CHICAGO) – Outstanding national and international talent continues to sign on for the 2017 African Festival of the Arts (AFA) Labor Day weekend, September 1–4. Confirmed to join lyricist, singer, musician, producer, poet, and songwriter, Wyclef Jean, as part of a power-packed entertainment lineup are Nigeria's first son of Afrobeats Wizkid; independent artist and younger brother of Chance the Rapper, Taylor Bennett and one of the preeminent bands of funk, boogie and the disco era, Heatwave.
The highly-anticipated event—one of the largest and longest-running festivals in the Midwest focused on African art and culture—each year draws tens of thousands of people—locally, nationally and internationally—to its long-standing home in Washington Park.
On opening night, Friday, Sept. 1, Taylor Bennett and Wizkid take to the Main Stage in what is lining up to be one of the hottest openings in the Festival's history. Nigerian singer/songwriter Ayodeji Ibrahim Balogun, aka Wizkid, began his career in music when he was just 11 years old. Joining him is Taylor, the younger brother of Chance the Rapper, who is changing the game with his lyrical style, flow and heart-pounding live shows. Bennett's rise has been meteoric, selling out shows all over Chicago. He was recently featured on the cover of the Chicago Reader as "The next up in Chicago."
Hosting the event will be Sheila O, host of Afrozons on Power 92, the first Afrobeat show on a major FM US dial. Afrozons is where Afrobeats meets hip hop and airs Sunday from 10 p.m. to midnight.
Completely cosmopolitan with international grooves to spare, Heatwave emerged as one of the disco era's funkiest dance groups. The band, while formed in Germany, signed to the Epic label and began formulating their first album in fall 1976. Among their string of award-winning hits are, "Ain't No Half Steppin," "Super Soul Sister," and 1976's disco anthem, "Boogie Nights."
The theme of this year's festival is Respect, and is in keeping with the city of Chicago's declaration of 2017 as "The Year of Public Art," which alsoincludes the 50th anniversary of the "Wall of Respect."
This year's Grand BaBa is Rev. Jeremiah Wright Jr., pastor emeritus of Trinity United Church of Christ, and the Grand YeYe is retired assistant principal Linda Murray. Both will be recognized at the AFA Gala on Aug. 18 at the DuSable Museum. Entertainment for the Gala will be provided by singer songwriter Regina Belle. For information on tickets, call 773.955.ARTS.
Operated by Africa House International (AIH), a 501©3 educational organization, the AFA is a four-day immersion into African culture and heritage as Chicago's historic Washington Park is transformed into an authentic African village. Over 300 vendors and artisans will present artifacts, textiles, traditional crafts, and museum-quality art. Enjoy the African-influenced food, music and dance traditions during an entertainment-rich, family-focused celebration unlike any other in the Midwest.
The Festival boasts five distinct areas each representing a center of culture and commerce on the African Continent: Nubia (fine arts); Kush (wearable arts); Songhay (African arts & crafts, collectibles and natural products); Timbuktu (African fabric and fashions); and Bank of the Nile (food court).
There will be pavilions highlighting South African wines, health & wellness and fine arts. Pavilions include: Spiritual Pavilion; Quilting Pavilion; David Durojaiye Olupitan African Heritage Pavilion; Author & Book Pavilion; Drum Village; Dr. Nurudeen Olowopopo Health & Wellness Pavilion; and the Bernice Gardner Children's & Family Pavilion.
Master African drummer, Olu Shakoor, conductor of the African Drum Village, specializes in both traditional and contemporary styles of African Drumming and excels in the Djum-Djum and Djembe Drum.
For those wanting to sample the tastes of Africa, you can dine on dishes in the tradition of Nigeria, Senegal and the Caribbean, as well as Cajun and Southern soul. But, the real stars of the Festival are the fine arts and the artists who make them—be they painters, sculptors, jewelers, or wood carvers.
Founded by Liberian-born business leader Patrick S. K. Woodtor, the African Festival of the Arts has become a national destination point for those seeking to immerse themselves in the African culture.
Woodtor founded the African Festival of the Arts as an outgrowth of his art shop, Windows to Africa, and he, along with his board of directors, have grown the event into a Labor Day staple. In all these ways, the Festival gives attendees a glimpse of Africa without the need for plane tickets and for less than the cost of applying for a passport.
Sponsors of the 2017 African Festival of the Arts include: Chicago Park District, ComEd, Next Level Health, Argo, Allison Jordan Events and PNC Bank. Media partners include: Comcast, NBC Universal, WVON, Bronzecomm, the Chicago Citizen and Chicago Crusader newspapers, AfroZons, and Senior Talk with Clara Hubbard.
Tickets for all shows are included in the price of admission to the Festival, and may be purchased now beginning at $15. There are discounts for seniors, as well as four-day and VIP passes. Children under five are free.
Learn more by visiting www.aihusa.org and clicking on African Festival. You can also go to Twitter: @AfricanFestChi Facebook: AfricanFestivaloftheArts and Instagram: @africanfestivalchicago