GROUP HOSTS TROLLEY TOUR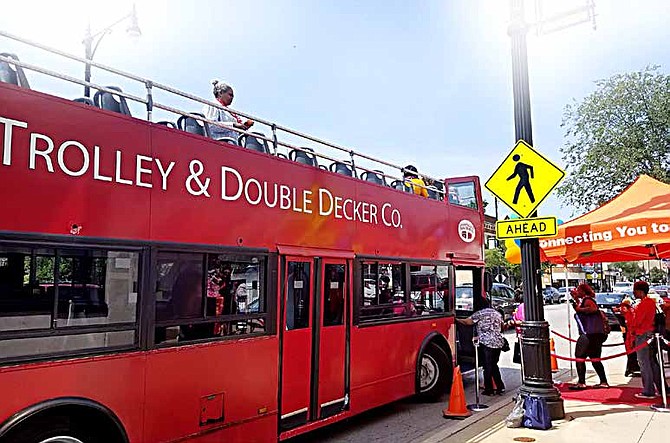 ---
GROUP HOSTS TROLLEY TOUR
By Christopher Shuttlesworth
Auburn-Gresham Housing Trolley Tour gathered local residents Aug. 5, 2017, to visit historic buildings, view 2-flat apartments or houses, and educate residents on credit repair, grant funding and city investment strategies.
Carlos Nelson, who is the executive director for Greater Auburn- Gresham Development Corporation, explained that most of the available historic houses are "exquisite" vacant houses designated in the 21st Ward, which is the 8th median income in Chicago.
Nelson said he understands the houses are vacant, but says they only need love along with some needed repairs.
"We realized that selling a house isn't just about the location of where a house is on a block," Nelson said. "But it's how the block is a part of the neighborhood and how the neighborhood is a part of the community."
Alderman Howard Brookins Jr., of the 21st Ward, said the historic houses' asking prices start at $50,000 and are able to be purchased with small loans.
Brookins Jr., added "If you picked these houses up and moved them North then you couldn't aœord them."
He urged residents to inform their family members and friends to support city housing because a neighborhood is only as strong as it's residents.
"We have home owners who are police ožcers, fighter fighters and teachers that got their start in the 21st ward and remained here," said Brookins Jr.
He explained that 1.5 million African Americans lived in the city during Harold Washington's mayoral term. But Brookins Jr., said recent projections show only 500,000 individuals may be city residents by 2030.
"I have family who moved to Richton Park and Matteson," he said. "As a lawyer, my contemporaries also live in Olympia Fields, Illinois. But you should asks them how much their tax bill is? The tax
bill is as high as their mortgage."
Brookins Jr., said the reason taxes are low in the city of Chicago is because downtown buildings pick up the heavy burdens of the city's taxes.
He highlighted that the available houses are near public and metra transportation, allowing easy access to downtown and the South Suburbs as well.
Brookins Jr., said although some neighborhoods may include crime-related activity, it is time for residents to take a stand for change.
"We can make this city and our community great," he said. "But we have to be the ones to plant our flag and say enough is enough."
Contributors and sponsors of the Trolley tour included Greater Auburn-Gresham Development Corporation, Neighborhood Housing Services of Chicago Inc., Equal Housing Lender and US Bank.
---