TV Meteorologist earns praise from MWRD Commissioners
10/18/2016, midnight | Updated on 10/18/2016, midnight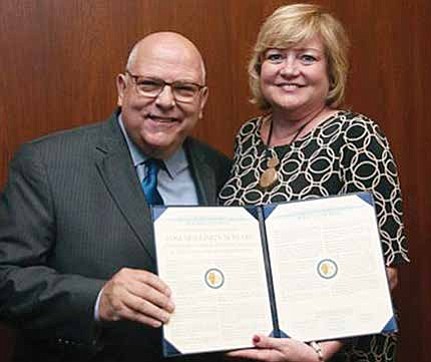 TV Meteorologist earns praise from MWRD Commissioners
In planning for rain events to combat flooding and operate the Chicago Area Waterways System (CAWS), the Metropolitan Water Reclamation District of Greater Chicago (MWRD) relies heavily on forecasts and weather projections. Few provide that outlook better to the public than iconic Chicago Meteorologist Tom Skilling.
In honor of Skilling's 38 years of educating the public on weather activity in the Chicago region, the MWRD Board of Commissioners presented Skilling with a resolution during their meeting recently.
"Anyone who has grown up or worked in the Chicago region and tuned into WGN or the Chicago Tribune for a weather forecast appreciates the value Tom Skilling provides to our daily lives," said MWRD Commissioner Cynthia Santos.
Santos added, "Because of his intelligent, well-researched and endearing forecasts, many of us Chicagoans have turned to him and benefited from his knowledge. It's that wisdom we at the Metropolitan Water Reclamation District of Greater Chicago try to impart each day when preparing to provide around-the clock flood control and protection of Cook County's waterways."