IL State Rep Bob Rita Gives Update on Blue Island Bridge Project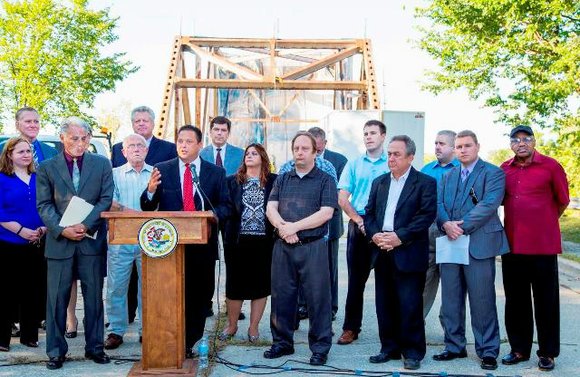 Illinois State Rep. Bob Rita (Dist.-28th), led a local celebration last week to mark the start of construction on the Division Street Bridge in Blue Island.
The bridge's closure in 2010 created critical delays in response time for local emergency authorities especially the fire station located right next to the bridge. It also frustrated local businesses and residents.
If the construction of the bridge stays on schedule, the bridge will reopen by the end of June 2016. Rita was joined by Cook County Commissioner Deborah Sims, Blue Island Mayor Domingo Vargas, city aldermen, officials with the Illinois Department of Transportation (IDOT) and contractors in charge of the construction and local residents at the bridge construction announcement.
Rita told those assembled that a makeover of the Division Street, which has been closed since 2010, was long overdue.
"We all know the problems we have had with these bridges around Blue Island," Rita said. "They've been a problem for too long. We need them fixed."
Rita also thanked his constituents in Blue Island for being patient while the bridge was repaired.
"This is an important day for the city of Blue Island. Today, we see a light at the end of a long tunnel," Rita said. "I appreciate your patience and support. We have all worked hard to get to this point because we know having our bridges open will help all of us here. I'm happy to say I've had a great relationship with IDOT and our construction partners to get the state funding to get this project done."