29th Annual Interfaith Breakfast Pays Tribute to Dr. King, Honors Rev. Clay Evans
Members of the faith community gathered with elected officials and civil rights leaders for the 29th Annual Interfaith Breakfast honoring the legacy of Rev. Dr. Martin Luther King, Jr., held at the Chicago Hilton and Towers, 720 S. Michigan Ave., last Friday, with dual highlights that included Rev. Dr. Clay Evans as the honoree and recipient of the City of Chicago's 2015 Champion of Freedom Award and 13-year-old, Mae Ya Carter Ryan who stole the show with her resounding performance of "Everything Must Change."
"When Dr. King came to the city of Chicago, he needed a place to preach but many would not allow him into their church because they were afraid," said Mayor Emanuel during his welcome address and presentation of the Champion award to Rev. Evans. "But there was one reverend that had the bravery and courage to open his church and invite Dr. King to preach from his pulpit and together they preached from his pulpit at Fellowship Missionary Baptist Church. Rev. Clay Evans has spent his life preaching and also teaching. He has been a builder of bridges."
Rev. Evans, who turns 90 on June 23 this year, thanked Mayor Emanuel for the award and for honoring Dr. King's Legacy. Evans told the Chicago Citizen Newspaper who spoke with him after the event, that he's glad the City continues to hold the Interfaith Breakfast after all of these years.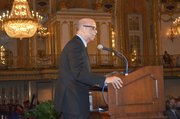 Dr. Michael Lomax, president and CEO of the United Negro College Fund (UNCF), delivered the keynote address, comparing the story of a young black Tuskegee Institute student named Sammy Younge, a Civil Rights, activists killed in 1966 in Alabama by a white man who was angry that Younge dared to use a Whites-only restroom, to young black males dying today. To view click
"Dr. King's death meant that we had to live our lives differently and be the 'drum majors for justice,'" Lomax said. "We have not achieved Dr. King's dream of a 'Beloved Community.' The recent killings of black youth, are still too prevalent."
Lomax, who helped raise $1.5 billion for the United Negro College Fund (UNCF) so that black youth can attend college, added that only 5 percent of black students who graduate high school are 'college ready.'
"Dr. King and Sammy Younge, died so we'd have the right to vote so how come we don't vote?, " said Lomax during his address. "Politics have become a blood sport, so don't ask me why the kids have become violent also. We don't know how to be civil. The Call to Action Chicago is to ensure this great nation can achieve its goal founded on the principals and the vision of Dr. King, that when we encounter obstacles, fear and limitation… where courage is required…that we must act. Chicago, let's heed the voices of those who have gone before us. If not here, then where. If not today, then, when?"
When asked about her thoughts on the keynote address and the racial issues that still exist today, Shayda Safapour with the Chicago Religious Council, at the event on behalf of the Bahá'í Faith community, a religion that emphasizes the spiritual unity of all humankind, said, "I think he highlighted the reality that we've made progress but there is still a tremendous amount of progress to be made. We can't deny or ignore that and have to take an active part in it; not with anger or violence, but with love and belief that we are truly one and that we're here to fight for one another and support one another."
Also during the event, Chicago Voice United, a group comprised of several Chicago area choirs including Salem Baptist Church, Soul Children of Chicago and the Providence St. Mel Choir, performed excerpts of the oratorio, Exodus by acclaimed African-American composer Earnestine Rodgers Robinson.
Rev. Michael Eaddy, Sr. Pastor, People's Church of the Harvest, Church of God in Christ; Rabbi David Wolkenfeld, Anshe Sholom B'nai Israel Congregation and Pastor Lynette Santiago, Co-pastor, Christian Fellowship Flock Church, delivered Unity prayers, calling for racial harmony.
Archbishop Blaise Cupich delivered the opening prayer.