Indoor Track Facility Slated for Chicago's Far South Side
Slated for construction on Chicago Park District property near Gately Stadium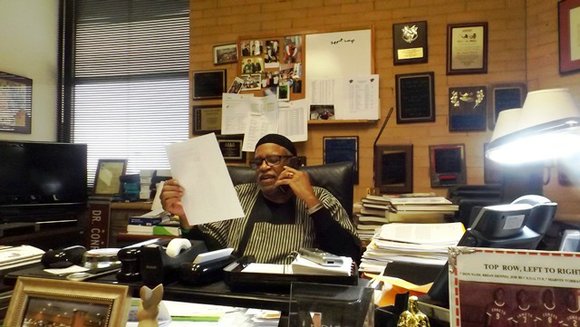 Ill. Gov. Pat Quinn and Chicago Mayor Rahm Emanuel are expected to announce a $20 million investment for a new state-of-the art, indoor, track and field facility for Chicago's south side, according to Dr. Conrad Worrill, director and professor of the Jacob Carruthers Center for Inner City Studies, Northeastern Illinois University, 700 E. Oakwood Blvd.
"As a former athlete, one of the endeavors of my life is to connect athletics to academic achievement. Over the last 30 years, a group that I head up called friends of Track and Field and another group that am I'm involved with, called the Slow Breakers, who are all ex-Chicago Public Schools athletes who are in their 70s and played football and basketball and ran track and are now retired teachers, lawyers, judges and doctors and everyday workers, meet on a regular basis and have been advocating for many years for building an indoor, state-of-art, track facility that can host international and national track meets and bring track and field back to life in Chicago," said Worrill pointing to an article written by Chicago Sun-Times Columnist, Mary Mitchell, during a Thursday conversation with the Chicago Citizen Newspaper.
Mitchell's article mentions Ald. Michelle Harris (8th Ward) also pushed for the indoor track facility.
Slated for construction on Chicago Park District property near Gately Stadium, 810 E. 103 St., Mayor Emanuel and Gov. Quinn are expected to make the announcement at 11:15 a.m.
"We've been advocating the building of a state-of-the-art, indoor track facility because track and field in Chicago, has been on a decline and there's been an orchestrated move that basketball dominates everything," said Worrill on the reason for the push for the facility. "Chicago at one time was very dominant in track and field in Illinois…Phillips High School, Dunbar, Englewood…but all these years, there's never been an indoor track facility. In the colder climate areas, they have indoor tracks. Our young people work out in the hallways (of their schools). So this Saturday because of our advocacy over the last 30 years, the mayor and the governor, have pledged and will announce their commitment to fund a state of the art, indoor track facility for $20 million.