Mariano's Grocery Store Coming to Bronzville, Alderman Questions Why No Mariano's for 5th Ward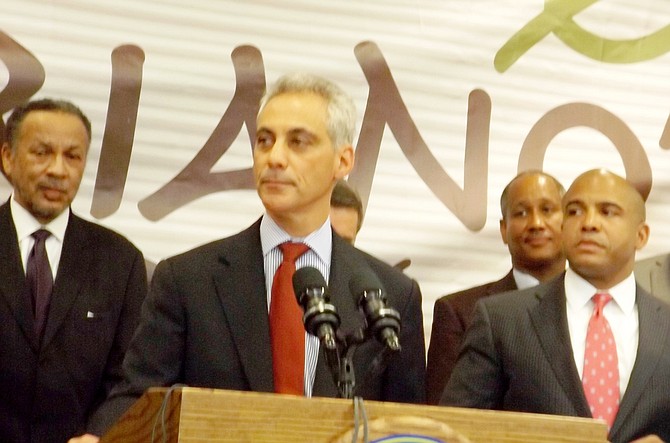 ---
Chicago's Bronzeville neighborhood will soon welcome a Mariano's grocery store which is expected to bring about 400 jobs to the area. Occupants of the Oakwood Shores Senior Residence, 3750 S. Cottage Grove, welcomed the news with cheers and applause during a press conference held last week with city officials.
---
---
"Bronzeville residents have waited many years for a new full service grocery store," said 3rd Ward Ald., Pat Dowell.  "Mariano's fits the bill for us and I am pleased to have worked with Mayor (Rahm) Emanuel and (4th Ward) Ald., Will Burns to bring another Mariano's to the South Side."
---
---
Mayor Emanuel, together with Ald. Dowell and Ald. Burns, made the announcement last Wednesday, along with Robert (Bob) Mariano, chairman and CEO of Wisconsin-based, Roundy's supermarket chain. Roundy's operates 169 retail grocery stores and 114 pharmacies under the Pick 'n Save, Rainbow, Copps, Metro Market and Mariano's retail banners in Wisconsin, Minnesota and Illinois.
Bob Mariano is also former president and CEO of Dominick's Finer Foods.
"We are excited about our entrance into the Bronzeville neighborhood and bringing residents there the same signature Mariano's experience that all of our stores offer. We are an integral part of every neighborhood we serve and we look forward to bringing one-stop shopping under an umbrella of great customer service to the Bronzeville neighborhood," said Mariano. 
Mayor Emanuel, in a seemingly jovial mood as he stood before an audience of senior citizens and media who gathered for the announcement, told the audience, "Mariano's continues to demonstrate its commitment to every Chicago community," said Mayor Emanuel. "This new Bronzeville grocery store will expand access to fresh, healthy food options for our residents. In three short years, Mariano's has created over 9,000 jobs and will continue to boost the local economy as they continue to grow across the City."
Minority-owned architectural firm, Johnson & Lee, Ltd., will design the grocery store in alignment with Bronzeville's historic architecture. The 74,000 square-foot store will be built on vacant Chicago Housing Authority land at 39th and King Drive with a ground breaking set for 2015. Development for the new store is described as a joint venture between John Bonds, CEO, of Safeway Construction and Chicago Neighborhood Initiatives (CNI), a community development organization.
"God has given us the opportunity to see what public and private partnerships can do in the community with John Bonds," said Johnson as he took his turn to speak during the press conference and thanked those involved for the opportunity.
Mayor Emanuel and Robert Mariano said they've been working for the last six months to bring the store to Bronzeville as a way to bring healthy food to the underserved neighborhood. Chicago's Bronzeville neighborhood encompasses the area from Pershing Rd (3900 S) north to 31st St., from King Dr. (400 E) west to the Dan Ryan Expressway. 
Mariano's recently named the Chicago Cook Workforce Partnership as a local hiring partner for their Chicago-area grocery stores.
"Today's announcement heralds Bronzeville's renaissance," said Ald., Burns. "It is a testament to residents who never gave up believing in Bronzeville's potential. I thank Bob Mariano for seeing what I see in Bronzeville." 
Fifth Ward Ald., Leslie Hairston, questions why the Mariano's chain has not opened a store in her ward.

Ald. Hairston recently issued a statement expressing discontent about the Mariano's project saying she feels like she's living in a cordoned off part of the city.
"… How is it that, Mariano's can pledge to the mayor to work to address so-called food deserts, but won't give my constituents the time of day. I realize that my colleague, 3rd Ward Ald. Pat Dowell, has been working to attract a grocer to her ward for years. She was in talks with Roundy's before the company was barely on anyone's radar in Chicago. So, I'm ecstatic that she is getting a much-needed grocery store in her ward. That, however, doesn't negate the problem facing my constituents. In the past, density was used as an excuse for corporations refusing to look at black communities to set up business. If that's still a valid barometer, then the 5th Ward should jump out as a viable location. The 5th Ward has more population surrounding the vacant Dominick's than either of the other two South Side locations. I'm tired of being told the Jeffrey Plaza is not a desirable location without any reasons why. I want Bob Mariano to meet with my constituents face-to-face and tell us why we are not good enough for his company to consider moving to our ward. Obviously, I'm missing something."
---