Guichard Gallery Welcomed as Revitalization Anchor for Bronzeville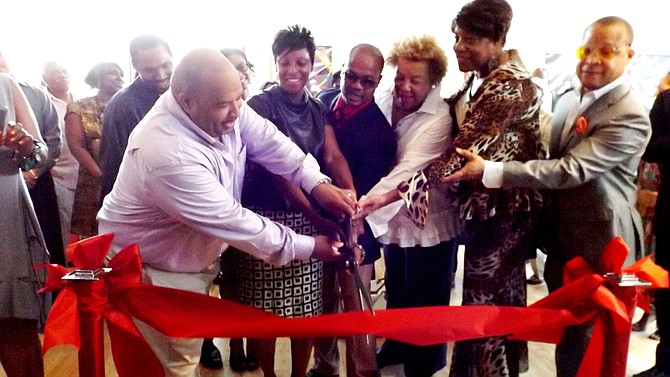 ---
The opening of Gallery Guichard in Chicago's Bronzeville neighborhood last Friday with an exhibition titled, Genesis New Beginnings: The Journey Continues on 47th Street, will hopefully surge revitalization in the historic area, according to gallery attendees and owners Andre and Frances Guichard. They're all optimistic that the new gallery will serve as an economic anchor that will help restore Bronzeville back to what it once was - a great place to, live, shop, and dine all while admiring a community filled with rich African American culture.
---
---
"We are so excited to be here on 47th Street and it wouldn't have happened without (Third Ward) Ald. Pat Dowell who's right here beside me," said co-owner, and curator, artist Andre Guichard. "This neighborhood is going to be talked about around the world. We'll be bringing poetry and other entertainment, wine tastings, etc…everything that we are as we collaborate with the great institutions like the DuSable Museum and the South Side Community Arts Center."
Prior to Friday's Gallery opening, on June 24, City of Chicago Mayor Rahm Emanuel and Ald. Dowell took part in the ribbon cutting for both the new Bronzeville Artist Lofts and Gallery Guichard, located at 436 E. 47th St. in what was a 90-year old vacant building and now renovated as 16 studio, one- and two-bedroom artist's apartments as well as an art gallery and art incubator in 12,200 square feet of space and a $5.9 million price tag.
Ald. Dowell at Friday's Gallery opening said, "It's so good to see Black folks in a place like this. I am so happy to have Andre and Frances Guichard here. It's very important for us to have a vision for 47th Street and that vision is to use our arts and our culture to attract private investment to this area so that we can have all the things we want to have in our community. The Guichards not only talked the talked but they walked the walk and sunk their money into 47th Street."
Mayor Emanuel cites the project as one example of the more than $780 million in planned and completed public and private investments underway in the Bronzeville area.
Developed by Revere Properties LLC and Three Corners LLC, rehabilitation work on the Bronzeville Artist Lofts, was provided $1.1 million in Tax Increment Financing (TIF) assistance and $4.4 million in federal Neighborhood Stabilization Program (NSP) funding allocated by the City of Chicago.
Half of the loft units are being leased to working artists earning no more than 120 percent of area median income (AMI) and the other half to artists earning less than 60 percent of AMI.
Approximately one-third of the ground-floor is occupied by Gallery Guichard, which relocated from its original location on 35th Street and South King Drive and showcases paintings, sculptures, and mixed media art works of black artists from around the world.

Well attended by guests who enjoyed finger food, cocktails and live music by the Association for the Advancement of Creative Musicians (AACM), a non-profit, collective organization of musicians and composers, event goers reveled in the excitement of having something as big and beautiful as the new Gallery and lofts.
"This is amazing to see all of you beautiful people in Gallery Guichard," Gallery co-owner and artist, Frances Guichard said. "This is history…we are making our own history. We need to tell our own stories. I want everyone to Tweet about Gallery Guichard and also take your pictures and put them on Facebook to let everybody know what's happening here on the south side of Chicago. My vision is to continue to make this happen because our people deserve to have beautiful things and everything that Chicago has to offer."
For more information about Gallery Guichard, contact Andre Guichard at 773-791-7003 or reach out to him via email at andreguichard@yahoo.com.
---