Bo Jackson Offers Sports Clinic to Inner-City Youth
citizen | 5/10/2013, 4:50 p.m.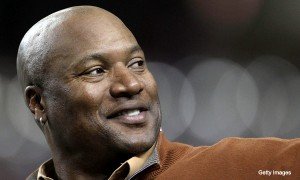 Former Heisman Trophy winner, Oakland Raider running back and White Sox outfielder Bo Jackson, will be launching the inaugural Bo Jackson Football Coaches Clinic this summer which will continue throughout the rest of 2013. The clinic will be held Saturday and Sunday, June 8 and 9 at the Bo Jackson Elite Sports Complex located at 17130 S. Prime Blvd in Lockport, IL. Jackson told the Chicago Citizen Newspaper that interested youth applicants can go to www.bojacksonelitesports.com to apply or call 815-221-6001.
At a recent press conference about the clinic, held at the Chicago Ritz-Carlton, Jackson stated, "We're doing a lot of good things in the department of youth athletics. I feel the need and the responsibility to go out and do something. I'm fortunate enough and blessed enough that I [have] a great group of people surrounding me that's going to assist me. "
Jackson released the names of former National Football League (NFL) players and coaches will take part in the sports clinic including former Pittsburgh Steeler and Cincinnati Bengal Oliver Gibson defensive tackle, former St. Louis Rams fullback J.R. Niklos and coach Tom Walsh.
Jackson says he has a desire to continue to give back to the community and wants to provide inner-city youth baseball players a place and opportunity to play and develop their skills. He feels his contributions will help increase the dwindling number of African-Americans playing Major League Baseball (MLB).
Jackson stated that young baseball players from the South and West coast benefit from playing year-round; by providing more opportunities at the Bo Jackson Elite Sports Complex he plans to level the playing field. "Doing this now gives me just as must satisfaction as it would to run a 90 yard touchdown or hit a 450 foot home-run," said Jackson.
In conjunction with Bo Jackson Elite Sports, Jackson has established a foundation, Bo Jackson's Give Me a Chance foundation. A 501(c)3 corporation, Jackson's foundation works to encourage disadvantaged minority youth to be involved with baseball, provide them with the finest training and facilities, and emphasizes the value and importance of education.
Jackson highlighted that just last year, two baseball players involved with his organizations, received baseball scholarships; a positive sign of good things to come from his youth involvement.
"We're going to have our 4th charity golf outing this year in Boiling Brook, IL and [within] four years it has become one of the top charity golf outings in the greater Chicago area. The kids that [will] benefit from it are right here from inner-city," Jackson said.
"It's not all about us as celebrities; it's about what we do after the lights have been turned off, after we hung up our football pads and baseball helmets and whatever else," said Bo Jackson, and Bo knows.
By Lee Edwards